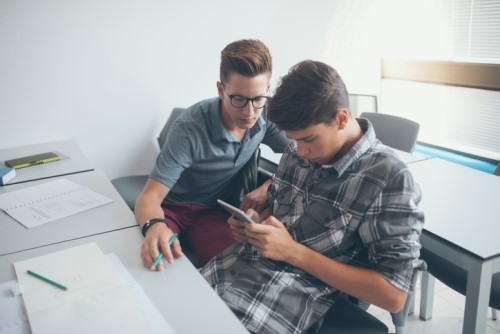 A new US study has looked at how students' use of smartphones in the classroom impacts on test scores.
The study, titled: 'Dividing attention in the classroom reduces exam performance' was conducted by lead researcher, Arnold Glass, and graduate student Mengxue Kang from Rutgers University–New Brunswick.
Glass said the intrusion of internet-enabled electronic devices has transformed the modern college lecture into a "divided attention task".
The study measured the effect of using an electronic device for a non-academic purpose during class on subsequent exam performance.
In a two-section college course, electronic devices were permitted in half the lectures, so the effect of the devices was assessed in a within-student, within-item counterbalanced experimental design.
Dividing attention between an electronic device and the classroom lecture did not reduce comprehension of the lecture, as measured by within-class quiz questions. Instead, divided attention reduced long-term retention of the classroom lecture, which impaired subsequent unit exam and final exam performance.
Students self-reported whether they had used an electronic device in each class. Exam performance was significantly worse than the no-device control condition both for students who did and did not use electronic devices during that class.
"When students are allowed to use phones, tablets or other devices for non-academic purposes during classroom lectures, they perform worse in end-of-term exams," Glass said.
"Many dedicated students think they can divide their attention in the classroom without harming their academic success – but we found an insidious effect on exam performance and final grades."
To help manage the use of devices in the classroom, Glass said teachers should explain to students the damaging effect of distractions on retention – not only on themselves, but for the whole class.
In France, the UK and Australia, debate is raging about the impact of smartphones in classrooms, with some leaders and academics calling for them to be restricted.
In February, Australia's Federal Education Minister, Simon Birmingham, proposed that the country's schools should follow suit as smartphones were "a distraction from lessons" and "a platform for bullies".
World-renowned Finnish education expert, Pasi Sahlberg, said the adoption of digital devices in schools may be impacting negatively on learning, and used global league tables as an example of this.
"We are not paying attention to the very rapidly increased use of screen technology. The first three PISAs were in 2000, 2003 and 2006, this thing didn't exist. There were no iPads or smartphones," Sahlberg told an education symposium in Sydney.