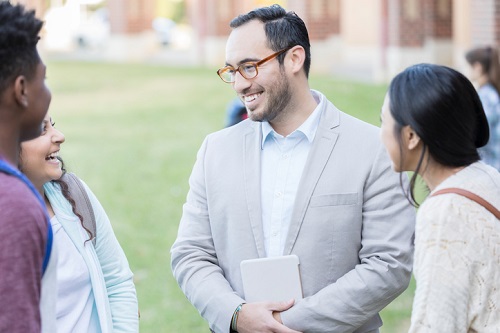 In collaborative and professional environments, whether they are classrooms or corporate offices, the lines of communication can become blurred and frustrated without effective feedback.
One organisation that knows this well is Sydney-based Edu-tech start-up Educator Impact, which is driving improved student outcomes across 400 Australian schools through its scalable technology solution.
Delivered via an online portal, the technology enables teachers to receive constructive feedback from their students and classroom observations from their peers. It then helps teachers use that feedback to set clear development goals, and provides resources to help teachers improve their practice and advance towards their objectives.
To date, the platform has collected feedback from over half a million students, helping more than 15,000 teachers set and achieve evidence-based development goals.
Improving teacher effectiveness
St Philip's Christian College (SPCC) in Cessnock has been using Educator Impact for six years. Principal Darren Cox said his school has seen a 13% increase in positive student feedback on their teachers ability to "manage and engage students at a variety of learning abilities".
"We know that what improves student outcomes is the effectiveness of the teacher in the classroom," Cox told The Educator.
"EI is a whole school approach which opens up these learning spaces to allow for instructional leadership to occur. From the feedback collected, each teacher is encouraged to set a goal and find that one thing that will help them be a better teacher this year than they were last year."
CEO and co-founder of EI, Ken Wallace, said what the company promises, it delivers.
"For school leaders looking for an impactful program we are a trusted partner and you're in safe hands," Wallace told The Educator.
"Innovations across our frameworks and platform now mean everyone in your school can get access to quality feedback and development including teachers, leaders, and support-staff."
Wallace said that through the company's interaction with schools, it is clear there is a high demand for programs like those EI provides.
"They are on the record requesting school leaders to provide them with more feedback on how they are going and want to improve. For 2019 there has never been a better time to implement Educator Impact and get all the benefits of our program," he said.
Giving schools more control
In the year ahead, EI will be releasing new functionality allowing schools to get more visibility and control over the development process.
Wallace said the ability to customise the frameworks and processes for schools has already been popular.
"Lots of schools and systems of schools are looking for solutions that have best-practice embedded in them – but also feel like an individually tailored solution. So they are excited to be able to make changes to the experience and look-and-feel to align with their organisation," Wallace said.
"We will also be enhancing interaction between participants and PLCs and continuing to build a community of educators who are striving to improve. It's a really exiting year ahead."
Alongside the benefits his school has already seen, Cox said EI also enhances the professional learning conversation and collaboration amongst the teachers, and provides students with "a real voice in their educational experience".
In 2019, EI will provide the school with data on how one of its school improvement goals are progressing for the year. Cox said this is driving "deeper learning".
"As we identify those who are doing it well, we will able to encourage others to go and observe them teach," Cox said.
"Each school has so much talent amongst their own teachers, and EI helps unlock that professional capital in a way that others can benefit from."