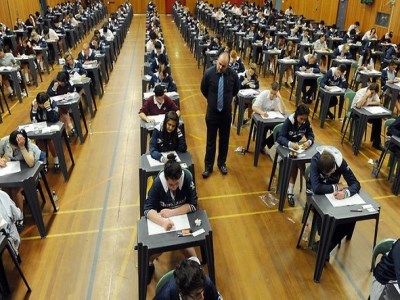 From 10am today, 77,000 students sat the only compulsory exam of the HSC – English.
The HSC, which runs over three weeks, will be the last before sweeping new changes to the HSC come into effect next year.
Meanwhile, the NSW Education Minister,
Adrian Piccoli
, has wished the state's students good luck, reminding them not to worry as the exams are "not the be-all and end-all".
To gain the HSC, students must have completed a minimum of 12 units of preliminary courses and 10 units of HSC courses. All courses in the HSC have a unit value – the majority being 2 units.
Students must satisfactorily complete the preliminary course – usually studied during Year 11 – before they are eligible to commence the corresponding HSC course, which is usually studied during Year 12.
An overhaul of the exam,
announced
in July, will see Year 9 students require a mark of Band 8 or higher in their NAPLAN tests to qualify for their HSC in Year 12.
There have been concerns that the changes may cause more harm than good, with parents and principals warning that the prerequisite could see more than half the state's students fail at the first hurdle to get their HSC.
Labor's education spokesman, Jihad Dib, said the changes place "enormous pressure" on students from the age of 14 to pass the exam.
Meanwhile, one mental health organisation, ReachOut, has launched online resources for parents of students who are struggling with HSC-related stresses.
ReachOut chief executive, Jono Nicholas, told
The Educator
that the organisation's digital platforms see an influx of activity in the lead up to the HSC, with more than 130,000 people having accessed its study and stress related content last year.
"We launched a support service for parents of teenagers earlier this year,
ReachOut Parents
, and one of the top issues parents told us they wanted help with was their kids' school and study stress, so we know this is an issue parents are concerned about," he said.
"Parents want advice on how they can best support their teenagers, without adding to the pressure that students are already experiencing."
Nicholas pointed out that some parents can be just as, if not more, stressed than their teenagers.
"We've put together some really practical tips and advice on how you can support your kids through this time, as well as keeping things in perspective," he said.
"Although it's important that students do their best, their year 12 marks do not define them - there are many different options, opportunities and career paths and there is not just one path to their future."
In a statement in the lead-up to today's exams, BOSTES president, Tom Alegounarias, said the certificate was a "highly regarded international credential" that would prepare them well for their chosen careers after school.
"While some students will feature on our merit lists and have their projects and performances selected for the HSC showcases, all students should be proud of their achievements," he said.
"Students who will complete their HSC this year will receive a highly regarded international credential that has prepared them well for whatever path they choose when they leave school. I wish you all the best."
The exams finish on Friday, November 4.