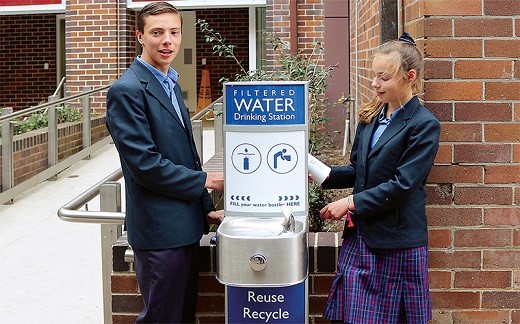 Sydney's Knox Grammar School recently expanded its drinking water amenities with Aquafil Water Stations by CIVIQ.
The CIVIQ team has provided assistance to Knox Grammar School by introducing nine new drinking fountain and water bottle refill stations across their prep and senior school campuses.
Situated in the upper north shore of Sydney, Knox staff identified that it had insufficient drinking water resources for students across its three main campuses - and needed to find a solution.
They wanted to find a product that would accommodate users of all ages, which could be placed in outdoor locations close to sporting facilities. They wanted to include a fountain bubbler as well as bottle refill option for users, to ensure that students had fast and easy access to water during break periods.
The school contacted CIVIQ due to the company's extensive range of Aquafil and Elkay branded drinking water products.
Knox staff concluded that the 1400mm-high Aquafil Pulse Senior would be a great addition to the senior campus, while the shorter 1200mm-high Pulse Junior would be best suited to the Prep school environment.
The Aquafil products are ideal for outdoor spaces with their robust design and high-visibility external signage panels. They are an all-in-one water solution as they incorporate both drinking fountain and bottle refill technologies.
To compliment the campus environment, Knox Grammar school requested that the school's logo and colours were included in the graphics panel design. Key educational messaging was also added to the exterior to promote the reduction of plastic bottle waste and to provide users with simple directions on how to use the product.
The Aquafil Pulse units are ideal for educational facilities due their minimal maintenance requirements, internal drainage (allowing for both outdoor and indoor installation) and hygienic anti-bacterial bottle refill nozzles. Soft rubber guards are also fitted to drinking fountain bubblers to ensure that accidental mouth injuries are avoided.
CIVIQ Sales Representative, Brittany Thompson, worked closely with Knox Grammar School in highlighting which of our products would be the most beneficial to the campus.
"Knox Grammar School were great to work with. The Aquafil Pulse drinking water station was clearly the right product for their campus needs and they were able to customise the design in a way that ties in nicely with their school environment and brand", she said.
"The finished product looks great – every time I visit the campus I see so many students using the drinking fountain and water bottle refill stations, it is great to see".
Prep and senior students now have convenient access to drinking water with nine Aquafil Pulse drinking water stations situated across campus which they can utilise between classes and during sports and recreational activities.
Knox Grammar will continue to work with CIVIQ by implementing additional drinking water amenities for the new performing arts centre, which is expected to open in late 2018.
CIVIQ's drinking water stations are promoting sustainability in the school by reducing unnecessary waste from plastic bottles, whilst encouraging students to drink more water throughout the day.
Related stories: