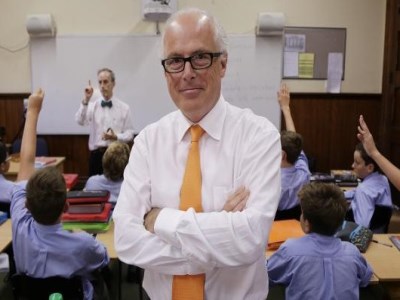 The headmaster of one of Australia's most elite private schools has called the in-class use of laptops a distraction to students' learning outcomes.
Sydney Grammar School headmaster, John Vallance, said the billions of dollars being spent on providing students with laptops is a "scandalous waste of money" as grades gradually dropped across the country despite the investment.
Vallance told
The Educator
that despite recent media reports claiming the school had banned laptops, it has never had a laptop program. Instead, all students are asked to submit handwritten assignments until Year 10.
The long-serving headmaster of the elite boys' school says most schools are "in much too deep" when it comes to the adoption and integration of digital devices in their classrooms.
"The history of technology in education too often has been a history of finding improved means to unimproved ends," he said.
"We need to think and reflect much more critically than we have done about exactly what we are trying to achieve with class-based teaching."
Last week, Vallance told
The Australian
that having laptops or iPads in the classroom inhibited conversation and was counter-productive to teacher-student relationships.
"Teaching is about interaction ­between people, about discussion, about conversation. We find that having laptops or iPads in the classroom inhibit conversation — it's distracting," Vallance said.
"If you're lucky enough to have a good teacher and a motivating group of classmates, it would seem a waste to introduce anything that's going to be a distraction from the benefits that kind of social context will give you."
He added that the Federal Government's multi-billion dollar investment to provide laptops to high school students had done nothing but to benefit tech-giants Microsoft, Hewlett-Packard and Apple.
"I think when people come to write the history of this period in education … this investment in classroom technology is going to be seen as a huge fraud."
Vallance told
The Educator
he made the public statement he did by suggestions that public examinations will increasingly not only be conducted online, but marked – even in the case of pieces of discursive creative prose – using specially designed software.
Sydney Grammar has a long list of prominent alumni, including current Prime Minister,
Malcolm Turnbull
, businessmen
David Gonski
and Westfield CEO Steve Lowy, late actor Bud Tingwell and poet Banjo Patterson.