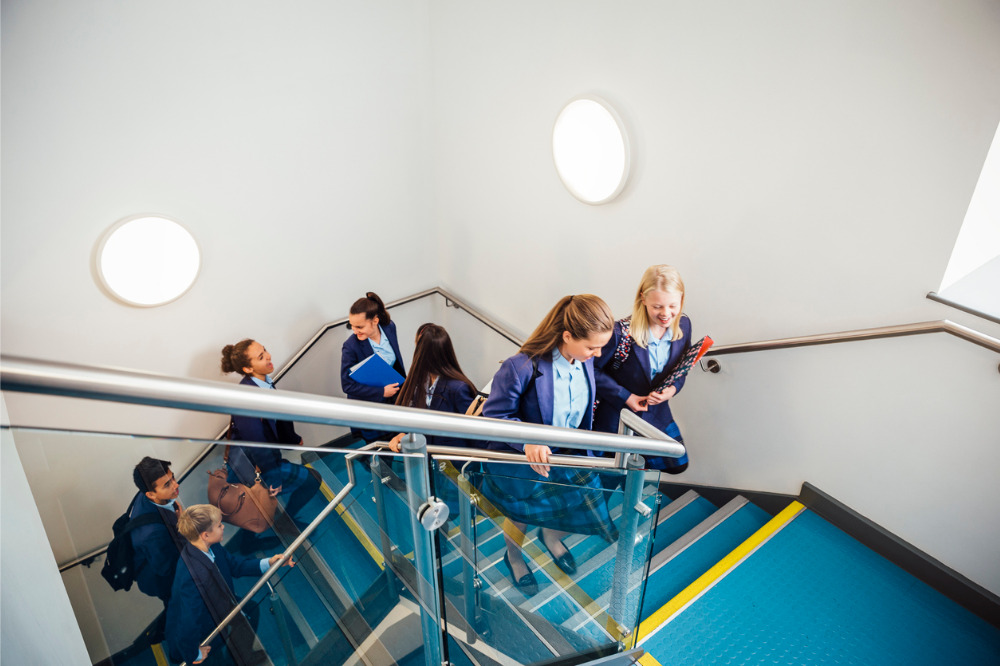 For young people, transitioning to high school is a significant time of change in their life. While it can be exciting for some students, for others it can be daunting.
Not only do young people need to negotiate a new learning environment and the greater expectations placed on them by parents and teachers, but they may also need to deal with the challenges that come with making new friends and keeping in touch with old ones.
All this disruption and instability can take a toll on a young person's overall sense of wellbeing and academic self-competence. In fact, research from the NSW Centre for Education Statistics and Evaluation highlights a decline in students' engagement in their education and sense of belonging during this period.
However, it doesn't always need to be such an overwhelming and stressful experience, Linda Williams, Clinical Lead at leading youth mental health service at ReachOut, said.
"A positive transition to high school can alleviate some of the feelings of self-doubt that can arise. Teachers have an important role to play in smoothing the transition for their students," Williams told The Educator.
"By providing their students with support and preparing them for a range of emotional, social and academic experiences they can enhance their students' sense of wellbeing and ensure that they have a positive start to high school."
Below, Williams shares four tips for schools and parents to help students achieve a stress-free transition to school.
Know your students
Relationships are one of the most important factors contributing to the success of this transition. Developing relationships with your students early on will help them to feel connected and comfortable to seek support when needed. To encourage this relationship building, consider the way you get to know your students. Smile at and greet each student whenever you see them around the school to help them feel noticed and welcome. Take time to get to know your students by playing ice breaker games and activities such as 'two truths and a lie' or classroom trivia. Most importantly, learn your students' names as quickly as possible! The sooner you do so, the sooner they will feel known, which will help you foster a positive relationship.
Cultivate a sense of belonging
The transition from surviving to thriving at high school can be linked to how quickly a young person develops a sense of belonging there. Connection and belonging can help young people to feel supported during times where they may be more vulnerable. It can also have a strong influence on academic motivation, which is particularly important during this transition period. In order to create a positive experience for your students you should look for ways to foster a sense of belonging. It can be helpful to work with your colleagues to identify how you can provide opportunities for the cohort to get together. Plan a special whole year bonding day or camp where students can get to know each other outside of the classroom. Or identify a safe space just for the year group - the school hall or quad - to help students build relationships with their peers. A buddy system is another good initiative to help new students feel connected to their peers. Encouraging opportunities, in both a formal and informal capacity, for older students to connect with the younger ones can help them feel more accepted and welcome in a new school environment.
Preparation pays off
You will be best placed to assist your students with a seamless transition if you come prepared with a range of initiatives to maximise your students' experience. Before you develop these initiatives, learn as much as you can about your new students by reading their past school reports or other available resources. These student files will provide valuable information to help inform the transition program and will also help you to identify the students that might need additional support. This transition program should continue until Term 2 of the new school year to ensure that students have sufficient time to settle in.
Some examples of initiatives could include afternoon social opportunities, orientation programs such as peer support with senior students or workshops on time-management and planning. If you need some inspiration, the ReachOut website has a range of resources and classroom activities on youth mental health to add to your transition plan.
Share self-care strategies and help-seeking information
Equipping your students with help-seeking strategies they can use if they start to feel overwhelmed by the school environment is a great way to support them. Whether that's doing some exercise, practicing mindfulness and muscle relaxation or creating self-care opportunities for students at school and encouraging them to do some at home. It's important to encourage your students to identify when they need to take a step back and practice some self-care and always leave the door open for help-seeking conversations.
The transition to high school can be a time of excitement and celebration if teachers implement a meaningful and tailored transition program. Activities and initiatives that help your students to develop social, emotional and academic skills will enhance their resilience and overall wellbeing and ensure that they transition into high school smoothly.