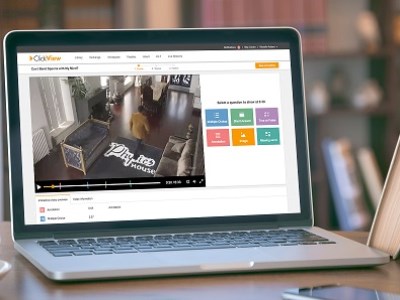 How can educators engage their students in higher order thinking and target their teaching? These are a just a few of several pressing issues for educators that one online learning company has addressed in its latest release of
interactive videos
.
The creators of the educational video platform, ClickView, believe that video is the perfect way to engage with any student, despite differences in learning preferences.
Linsey Napper, ClickView's content manager, told
The Educator
how the product is turning passive viewing into active learning – and standing out as an effective online teaching and learning platform.
"We listen to teachers, and we know that video is the most engaging form of media available so we satisfy every possible video requirement they have. We also empower teachers with the best opportunity to create a rich learning experience through video education and enable them to meet the actual needs of their students," she said.
"That might be a documentary, a feature film, last night's news, a video series we produce right here in Australia, a means to safely film their students or a flipped lesson. There is no other product that does that."
Working directly with educators
Napper pointed out that ClickView works directly with educators in order to make the best decisions about how the product evolves and that this showed in the usability of the resource.
Rupert Denton, ClickView's community manager, said fostering "discovery and rigor" were two common challenges in teaching and learning, but pointed out that ClickView has addressed these effectively.
"First, finding relevant video resources for a lesson can be an extremely time-consuming and frustrating process using traditional methods like YouTube and Google searching," Denton explained.
"ClickView addresses this by providing a carefully curated, curriculum mapped platform that focuses completely on educational video, meaning educators know they will not be inundated with irrelevant content.
Second, video has traditionally been a learning resource hamstrung by the fact it is a very passive medium; it can be viewed but whether it's absorbed is a different question."
In terms of how ClickView might have a significant impact on teaching and learning moving forward, Napper said the most "profound" impact she sees is that of accessibility.
"The highest quality video content is continually becoming more accessible to everyone in education - the schools, teachers and students. We continually add new content, not only through original productions and acquisitions, but also through contributions from our ever-growing subscriber base," she said.
"The library of video content is constantly refreshing and always current. Teachers now have access to television that aired just a few hours previously, curriculum-mapped videos produced by our team of educators, and also a growing collection of shared flipped lessons from amazing teachers across the country."
'Meeting the real needs of teachers'
Denton said that in an educational landscape increasingly saturated by technology it is vital that education-technology ensures that it is meeting the real needs of teachers – the main one of which is to boost the learning outcomes of students.
"It is important that educational technology rises to the challenge of contributing to education beyond just being a "nice-to-have" - the worst thing EduTech can be is gimmicky," he said.
"In turn, ClickView is working hard to ensure that we make a meaningful contribution to education, teacher impact and student outcomes."
Denton added that as video becomes ubiquitous in 21
st
Century classrooms it is "integral" that its educative potential is harnessed and channelled, which the interactive features achieve because they ensure students are no longer just watching a video but engaging with a learning resource.
"The multifaceted data of student responses delivered automatically within interactive video analytics, not only enables the educator to identify gaps in learning, it also pinpoints areas of their own teaching that students across the class are having difficulty in understanding," he said.
"Educators can then adjust their lesson plans to better target their teaching and ensure that future classes don't have the same difficulties with the same material, which quickly helps develop the educator's skills and keeps their teaching precise to the needs of their students."
Creating meaningful, educational video content
ClickView's interactive videos allow teachers to track the video responses input by students via analytics, to see how engaged they are in the video they're viewing. It also allows teachers to embed interactive feedback inside the videos themselves.
In doing this, ClickView helps teachers identify areas in which students are falling behind and improve the learning outcomes of entire classrooms.
Denton said that principals who may have been sceptical about why and how video is being used in the classroom can be assured that video being deployed by teachers in classrooms across their school are educational if they are using ClickView.
"This is because ClickView places education before all else," he said.
"This vision ensures that the video we create is meaningful, the video that is contributed by users is carefully curated to ensure educational merit and the tools that we provide to educators help empower them."