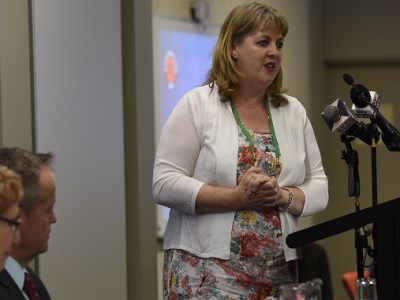 The
Australian Education Union
(AEU) will spend $2m on an advertising campaign to pressure the Federal Government to match Labor's $4.5bn school funding
pledge
.
In a speech to the AEU federal conference in Melbourne, the union's federal president, Correna Haythorpe, revealed that the AEU would soon be launching a free-to-air TV and print ads in the next two weeks.
"We will be spending $2m to get the message out that Gonski funding matters," she said, stressing the need for the union to build on its success and "keep Gonski high on the national political agenda"
The ads will begin on March 6 and will appear on TV in Sydney, Brisbane and regional NSW, being backed up by a broader print and digital campaign.
"Every conversation that you have will make an impact, every door you knock on, every letter or email that you write, every phone call that you make," Haythorpe said.
"Every child that needs help at school should be able to get it ... as soon as it's needed, and regardless of where they live or what school they go to.
"We are talking about children from homes where violence can be common, or where parents are affected by drug and alcohol abuse or mental illness."
Haythorpe's speech focused on the need for Gonski funding to provide equity and opportunity for children from disadvantaged backgrounds.
"School can be the circuit-breaker, it can be a life-changer or even a life-saver for these children. For many it is the one chance that they have," she said.
"Forty per cent of students from disadvantaged backgrounds failed to complete Year 12 or its equivalent, compared with just 10% of students from the wealthiest households.
Haythorpe added that while the school system is working well for the majority of children, there was "a significant minority" who are not benefiting from school and reaching their potential.