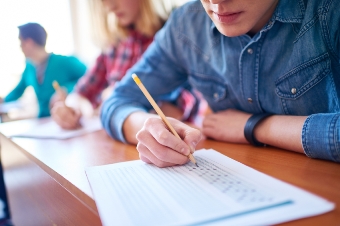 The question of whether an ATAR matters depends on who you ask and what you consider to be important.
Reports have shown that more than one-third of young people aged between 15 and 19 suffer from school-related anxiety, and over half of the 19,000 surveyed felt that academic barriers would impact on their further study and work goals.
To help students realise their potential without the high-stakes pressure of an ATAR, one university is offering a ground-breaking program that will see students offered a university based on their HSC results alone.
This week,
Western Sydney University
announced the introduction of the HSC True Reward, the first of its kind in NSW and exclusive to Western Sydney University. Applications to the program open in October for 2017 NSW HSC students and close on 11 December 2017.
Angelo Kourtis, Vice-President (People and Advancement) and Registrar at Western Sydney University, says the early offer program has been developed in response to the University's long-held view that the ATAR is not the sole indicator of a student's potential to succeed at university.
"The ATAR scaling process can be confusing and not always a true reflection of students' performance in individual HSC subjects," Kourtis said.
"As a result, we believe talented and capable students are missing out on receiving an offer to the degree of their choice."
Western Sydney University will be making early offers on 14 December 2017 to coincide with the release of HSC results in NSW. The early offers will also be made earlier than any UAC offer rounds based on HSC outcomes.
"At Western Sydney University we believe in the unlimited potential of every student and the importance of rewarding hard work. It is our opinion that the current ATAR scaling system does not support this broadly enough," Kourtis said.
"Our early offer program not only gives HSC students the chance to plan their futures early, but also considers the results that truly matter.
"We believe this is the first step towards a more transparent entry system that will set more young people on the path to success, and the future they have worked hard for and deserve."
Related stories:
ATAR results fiasco affects 2,000 Victorian students
Government announces ATAR crackdown