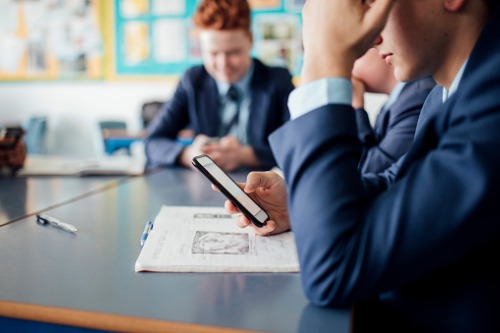 Western Australia has become the latest state to put restrictions on the use of mobile phones in classrooms, following moves by the governments of Victoria and NSW.
The government's new "off and away all day" policy, which states effect from the start of next year, will ban students from Kindergarten to Year 6 from using mobile phones during school hours in all public schools.
For students in Years 7-12, mobile mobiles must be switched off during school hours and kept out of sight until the end of the school day. The only exemptions to the new policy will be students who are deemed to have special circumstances, such as the need to monitor a health condition.
The ban also includes the use of mobile phones, smart watches, earbuds, tablets and headphones unless students are under the instruction of a staff member.
In December 2018, NSW became the first state to put restrictions on the use of mobile phones in classrooms, but the ban only applied to primary schools.
Victoria went one step further in June this year, announcing that from Term 1 2020, mobile phones would be banned for both primary and secondary students.
'The results have been very positive'
"We want to create the best possible learning environment for WA kids, and our policy will allow students to focus on their school work, without the distraction of a mobile phone," WA Premier Mark McGowan said.
"The policy will improve the health and wellbeing of students, by encouraging children to connect socially in class and in the school yard. Some schools have already adopted this policy, and the results have been very positive."
McGowan said the WA Government was responding to concerns from parents and teachers about the pressures and demands that carrying a mobile phone brings to young people.
"Additionally, while it is recognised that cyberbullying mainly occurs outside school time, banning the use of mobile phones will reduce external issues being brought into a school via technology," he said.
WA Education Minister, Sue Ellery, said the decision was made after consultations with principals, students and parents.
"Schools I have visited where phones are banned, have reported that a tough stance has been a game-changer for students and staff," she said.
"Students are talking to each other face-to-face rather than texting and they're not distracted from their work during class - overall those schools are much happier and connected places."
She said the new policy will roll-out across all public schools from the start of next year.
"I am absolutely supportive of using technology as a tool for learning, and this policy doesn't limit those opportunities," she said.
A 'tough but right' decision
Federal Education Minister Dan Tehan welcomed the decision, calling it "tough but right".
"Banning mobile phones from the classroom will encourage students to focus on learning by removing a significant distraction," Tehan said.
"Mobile phones can also be conduits for cyberbullying and other inappropriate use. There is also evidence of the negative impact social media is having on young people's mental health."
Earlier this year, the Federal Government put banning mobile phones on the agenda at the Education Council where Assistant Professor Louis-Philippe Beland cited research that found low-achieving students enjoyed the biggest positive effect from a mobile phone ban, with the benefit equating to the equivalent of an additional 10 school days a year.
"If you go to schools where mobile phones are banned it has made a huge difference to the learning environment and to the social environment at lunch time and recess," Tehan said.
"Student wellbeing is an issue for parents and teachers, and we will continue to support all jurisdictions and schools to limit the use of mobile phones in schools."
Experts voice concerns over phone bans
Currently, 89% of Australian students admit to using the smartphones in the classroom. However, research shows that student learning outcomes improve when the devices are removed from classrooms.
Individual schools are allowed to set their own mobile phone guidelines, but a recent report by the Office of e-Safety found a 28% increase in cyberbullying and a rate of 42% of young people saying they've had unwanted contact online.
Still, experts like renowned Finnish educator Pasi Sahlberg have reservations about the phone bans.
"Most of 'screen time' takes place outside of school and simply taking the gadgets away from kids in school would not help, especially it is not a good idea for those who suffer from screens the most," Sahlberg told The Educator.
This issue, he explained, is best handled in close collaboration with children and their parents.
"We need to educate them about the advantages of technology and risks related to heavy use of it. We need to work with parents to set the limits how smartphones, games and media is used at homes and in schools," he said.