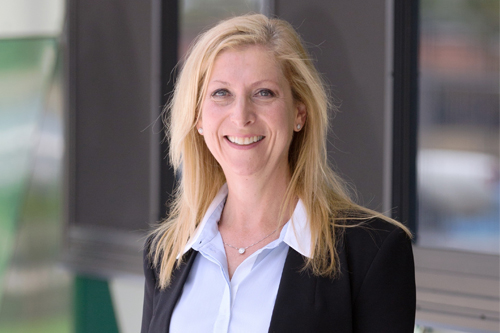 In 2018, Cecil Andrews College (CAC) principal Stella Jinman was awarded one of the Western Australian 20 in 20 Women in Technology Awards, which recognise 20 women who have made a significant contribution to technology in Western Australia over the last 20 years.
Jinman is challenging the status quo on traditional teaching approaches by directly involving industry and mentors in the school and the classroom through a project-based learning (PBL) program and workplace visits.
She has also incorporated virtual, augmented, and mixed reality and drone technology into the PBL program and is working to pilot 'Vortals' for the first time in an Australian school.
These initiatives – and more – recently won Jinman a place as one of The Educator's Hot List 2019 winners.
Below, The Educator speaks to Jinman about her school's extraordinary turnaround and how she continues to challenge the status-quo in traditional teaching approaches.
TE: What did the teaching and learning environment at Cecil Andrews College look like before you and your executive team began turning things around?
SJ: It was a bleak picture of self-perpetuating failure with many students failing to reach benchmarks of achievement. The school was being considered for closure when I arrived and had been reviewed for under performance and lack of student achievement by the Expert Review Group (ERG). I couldn't tell what the uniform was when I first arrived or what the curriculum approach was. Enrolment numbers were plummeting. Students did not believe in themselves, and parents were alienated and hostile with a lack of confidence in the teaching. The school had a bad reputation; students were often violent; attendance, literacy and numeracy and students' engagement were low; and staff were demoralised and unsure about their future. It was known as a hard to staff school. The school was in survival mode and everyone was waiting for the inevitable closure that they were all discussing. I was told that one of the teachers would get to the front gate and start shaking and that he had to be carried off on a stretcher. Apparently, the leadership team had called the problem of getting students into classes "operation roundup" and students were climbing out of windows, scaling the roof and fighting. Students weren't doing experiments in Science and there was a lack of coherence; students were bored and misbehaving. Teachers were standing at the front of classes with an over reliance on handouts.
TE: I understand that in order to turn this situation around, you began challenging the status quo on "traditional" teaching approaches. Can you tell us more about this?
SJ: We are overdue for a revolution in education with the fourth industrial revolution – or Industry 4.0 as it's referred to. Unfortunately, our industrial revolution model is not fit for purpose with the acceleration of technology, disruption and global shifts. I challenged my staff too by taking the whole school into PBL and closing early one afternoon every week for staff to collaborate and plan together. That freed the system up and stopped a risk adverse culture. We became more adventurous with a captivating and compelling futuristic vision that was inspirational. The parents and community are loving the re-branded CAC which they partner with us from extreme disengagement to having a presence in the school, using social media to connect, working in the entrepreneurial and advocacy space and pitching ideas to us. Recently, they brought in globally active sustainability scientists to consider Biophilic schools which staff are supporting. Staff have initiated parent workshops in STEM to bring our stakeholders with us so they can support and understand contemporary needs of learners particularly in STEM. Teaching and learning have a hands-on inquiry-based focus which sparks curiosity and is relevant, innovative with a real -world problem solving approach. The STEM Coordinator, who is a National Commonwealth Bank and Schools Plus Award winner, is integrating STEM through a two-way 'STEAM garden' with Aboriginal elders as consultants. Students feel a sense of belonging and that it is a community where their dreams are coming true.
TE: What are some of the most inspiring and impactful teaching and learning outcomes you have observed as the College's principal in 2019?
SJ: I've been wowed and blown away by humble teachers with extraordinary talent matched by passion and the ability to care for students, connect with them and scaffold them to take on a cause and dream big. We have flexible projects where teacher leaders are co-designing innovative curriculum with business and industry partners and Curtin University E-Sports. Students are achieving high academic results, including an ATAR of 93.5% with an increase in the school's median ATAR. There has also been a 100% attainment from an initial 33% in the past, leading us to be listed as one of the most improved schools in literacy and numeracy. Really, I'm inspired by the students who are clearly aspiring and aiming higher….who have moved from NAPLAN band 6 to band 10…who were interviewed for WAs outstanding VET Excellence Awards and who have been placed in apprenticeships with our Global business and industry partners. Four students who had been failing in Maths worked with The Engineer on work-based projects in Year 10 using drones and are succeeding in Year 11 in an Automation Pilot with South Metro TAFE, Rio Tinto and other resource and Government partners, which is the first qualification in Australia. Three are females and one is Aboriginal (also studying to attain her drone pilot's license) which clearly defies the statistics. Through our Just Start It entrepreneurial courses, students with very creative ideas made it into the finals, and last year a team of students were finalists in the Youth category of the WA Innovators of the Year, working with Darren Lomman Innovative Engineer and his company Greenbatch on recycling plastic using 3D printers and their gaming concept. Most of the students were ESL speakers but were confidently pitching their ideas to a Shark Tank! Our Robotics partnership with SalesForce is getting excellent results, including the Captain of the team who – despite initially not passing Chemistry – rose to the top of the class in tests. The motivation and self-belief, along with creative and critical thinking in pathways where students learn best, has accelerated many students beyond previous low expectations to achieve above what would be anticipated due to the demographics.
TE: Can you tell us about the College's "Vortals" pilot and what makes it so unique in an Australian educational context?
We are the first school in Australia to be piloting Vortals – a mixed-reality design and presentation platform that is student focused – with start-up developer and film producer, Russ Scott. Our school was recommended by Innovative Foundations' Nick Stamatiou – an Innovations expert – to pilot Vortals. Through this platform, the students are designing and building their own advanced mixed reality experiences. It means they're having to solve the creative and technical challenges that come with combining all the different 'digital realities' in an experience. We're using it for really innovative cross-curriculum projects, including a UN global goal aligned HASS project that we are really excited about. One thing we notice in particular is that the students are excited to move from being mixed reality consumers, to now being the creators.