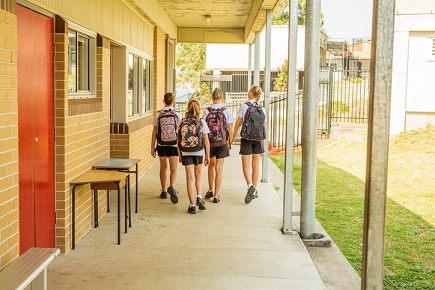 In February, data from the Australian Bureau of Statistics (ABS) showed that the proportion of Australian children enrolled in government schools had increased slightly over the past year.
According to the data, public schools now educate 65.4% of all Australian school students (2,483,802), rising slightly from 65.2% in 2015 and 65.1% in 2014.
However, new figures provided to
Fairfax Media
by the ABS suggest that parental preference towards public schools may be more far-reaching than previously thought.
The figures, released on Monday, show that the percentage of students from high income families enrolled in public schools has risen by almost 7% over the last decade.
In NSW, 50% of all families earning over $156,000 a year are now sending their kids to public schools, compared to 43.6% a decade ago, while 27.8% now attend Catholic schools and 22% go to private schools – down from 29% in 2006.
In Victoria, there are now proportionally 12% fewer children enrolled at private schools compared to a decade ago, with an extra 4% of families choosing the Catholic sector, and 8% opting to enrol at public schools.
Dr David Zyngier, a senior lecturer at the Faculty of Education at
Monash University
, said research in Australia and overseas shows that student academic outcomes in private schools are no better than their equivalent 'like' public school on the basis of socio-economic status.
"Parents are starting to realise that their local public schools can provide all the necessary resources and quality teaching and high academic and personal outcomes even though they might not have a state of the art aquatic, equestrian and well-being centres, rowing sheds, a dedicated music auditorium and assembly hall, or campuses in China," Zyngier told
The Educator
.
"Parents have also understood that enrolling their children in the local public school will be both a financial saving [around $500k over 13 years before tax] while ensuring the best possible academic and social outcomes for their children."
Zyngier said that as a result, the "drift" away from public education has not only stalled but is being reversed.
"This is true especially among families who are wealthy enough to choose an elite private school charging over $25,000 per year," he said.
"The newly establish Public Education Network believes that public education is a public good for the common good and that there must be a good public school in every community."
ABS Census data shows that in the five years to 2016 NSW independent school enrolments increased by 11%, which
Association of Independent Schools
NSW (AISNSW) executive director, Geoff Newcombe, called "a healthy increase".
"This reflects parents' high levels of satisfaction with the quality of education provided by independent schools," Newcombe told
The Educator.
"The figures demonstrate that much of the growth in independent schools in recent years has been in schools with fees in the lower to middle range. Clearly, the perception that independent schools are only for the well-off is incorrect."
Newcombe said government funding for students attending non-government schools is needs-based, with parents choosing a non-government school forgoing significant taxpayer support as well as paying fees for their child's education.
"These figures suggest perhaps it's time for governments to consider basing funding on parents' capacity to pay fees," he said.
Related stories:
Parents prefer public schools, new survey shows
Report slams school autonomy as divisive