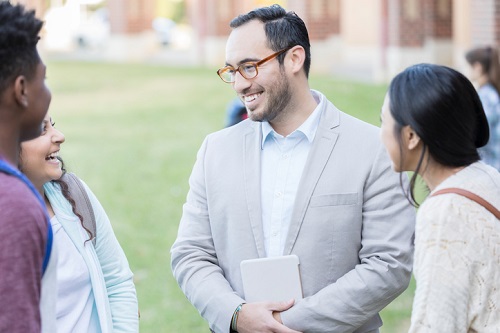 According to reports, the proportion of students with an ATAR of 70 or lower being admitted to teaching degrees has increased significantly over the past decade, from 30% in 2007 to 40% in 2016.
This has led to calls for more stringent rules to be in place to ensure only the highest quality teaching graduates are in Australian classrooms.
Ahead of the last federal election, Deputy Opposition Leader, Tanya Plibersek, proposed that teaching degrees be capped to the top 30% of high-school graduates,
"Labor wants our high achievers to compete into teaching degrees in the same way they compete to get into medicine, dentistry or vet science," Plibersek said.
But what exactly makes a "quality" teacher?
Some experts say there are a range of factors that play into this designation – factors that must be carefully considered by policymakers before any sweeping changes are brought in.
Rethinking support for teacher mentors
Flinders University Associate Professor Kerry Bissaker is an expert on teachers' professional learning and inclusive education. She highlights the importance of preparing graduate teachers for the diversity of classrooms in Australia.
"While the current rhetoric requires 'classroom ready' teachers, the demands of classrooms are as diverse as the geography and population of our nation," Associate Professor Bissaker said.
"It is those with deep contextual knowledge who are best placed to help our graduate teachers thrive and aspire to sustained careers in the profession."
Associate Professor Bissaker said this requires rethinking how more experienced mentors are supported to not just take a graduate teacher under their wing but to foster in them a sense of responsibility for growing the future of the profession.
"Focusing on developing students' capabilities and capacities to navigate an uncertain future is essential," she said.
"Graduate teachers who take time to get to know their students – their interests, their backgrounds, their aspirations – and prioritise working in collaboration rather than in competition will do much to create a sense of belonging. And a sense of belonging is not only a foundation for learning but for inclusive communities."
Others say the conversation should be moved beyond "teacher quality" to issues such as high workloads and increasing segregation.
Important issues being 'overlooked'
Dr Meghan Stacey is a lecturer in sociology of education and education policy at UNSW Sydney. Her main area of research is teachers' work and how it is affected by different policy approaches.
She said conversations about teacher quality often miss the wider contexts affecting their work.
"Young teachers are the future of our profession," she said.
"Because of this, it's really tempting to think and talk about their 'quality', because we know they are so important. But these conversations have a tendency to overlook the contexts in which this work actually takes place."
Dr Stacey said this includes the administrative strain frequently experienced by teachers as well as workloads as the impact that school choice has on diversity.
"School choice has clumped together students from similar backgrounds. Teachers' work is now undertaken in highly diverse settings, creating really varied challenges," she said.
"It is difficult – and sometimes not very useful, in my view – to talk about the 'quality' or 'status' of teachers when the work they do across school contexts is often very different."