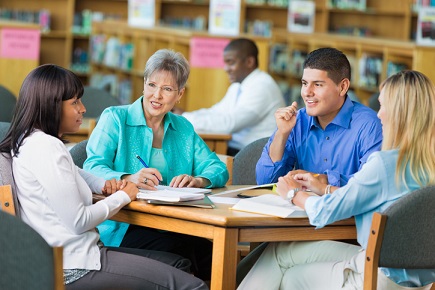 In the hectic day-to-day operations of modern schooling, having effective support staff on hand can make all the difference.
After working with hundreds of schools and thousands of educators, Educator Impact (EI) has identified the key skills, behaviours, and attitudes that define great support staff in schools.
EI has recently developed a helpful e-book, titled: 'the 8 habits of highly effective professional support staff in schools'. Below, The Educator looks at each of them, and why they're crucial to every K-12 teacher and leader.
1. Exemplifying ethos: Building a positive school culture
A positive school ethos is the way support staff, teachers, school leaders, students, and parents treat each other in order to make a positive learning environment for everyone. Support staff can help create a positive school ethos by first understanding what the core values of the school are, developing positive relationships with staff and community, and being an advocate on behalf of their team and the school.
2. Delivering service: Improving service delivery at your school
School support staff are at the heart of every school and it often lies with them to provide that first impression and show a commitment to providing a great service.
The key to excellent service delivery is to know who values your effort, to understand what they want, and to deliver beyond their expectations.
3. Demonstrating expertise: Staying on top of your game
Beyond familiarity, an expert takes the accumulated wisdom of a field of endeavour, and turns it into practice. Subject matter experts are at their most valuable when they put world's-best-practice into the team's processes and procedures, look to continually improve their skills and share those skills with their team.
4. Working together: Everyone playing their part
The defining characteristic of a successful team is a commitment to a shared goal. Good teams have a set of members with the diverse skills needed to reach their goals. Great teams value the differences of their members, seeing where each team member brings benefit to the wider team. This in turn builds positive relationships, built on mutual respect.
5. Communicating effectively: Using two ears and one mouth
In a dynamic school environment, communication must be clear, concise, and ongoing. A willingness to listen first, confirm understanding, and follow up regularly are the foundations of positive communication practices.
6. Being flexible: The challenges of a dynamic environment
School staff must constantly adapt to change. From a child being injured in the playground, to an unanticipated accreditation audit, schools must be able to respond to events both large and small. Flexibility is, at its core, the ability to re-prioritise tasks successfully. Part aptitude, but mostly attitude, flexibility requires both that an individual wear many hats, and for those around them to provide support.
7. Mastering organisation: Being smart with your time
Organisation helps us plan our tasks, and have a way to get back on track when the inevitable interruptions occur. Good plans are based on the best possible understanding of the task. Good execution responds to change by adapting to new circumstances.
8. Modelling professionalism: High level performance
At its core, professionalism is about recognising that your actions reflect on the perception of your team and the school more broadly, and therefore mindfully choosing your actions in that light. From keeping calm under pressure, to ensuring that you are well presented, professionalism is built on the hundreds of interactions you have every day.
Related stories:
How you can drive performance in your school
New PD opportunities for educators