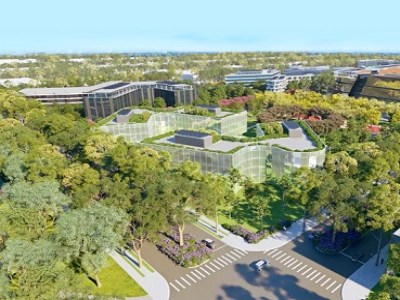 Last week, the NSW Government announced that the nation's first science-focused school will open in 2019, offering a raft of new opportunities for the state's students.
The Science, Technology, Engineering & Mathematics (STEM) school will take students from pre-school to Year 12 and will be part of Sydney Science Park, a development being planned for Luddenham in western Sydney.
The $5bn, 280ha Science Park is a joint project between developers, Celestino, the NSW Government and the Catholic Education Diocese of Parramatta (CEDP), which will run the school.
NSW Premier, Gladys Berejiklian was joined by the state's education minister, Rob Stokes and CEDP executive director, Greg Whitby, announcing the school as a facility that would "put NSW at the cutting edge of education in Australia".
In an interview with The Educator, Whitby said the school will be "a unique learning community" in which students will study, among other things, how to code robots, liaise with NASA space stations and discover the latest in IT programming.
"This is the first school of its kind in Australia, and will be "pre to post" [preschool to beyond Year 12], drawing on the collaboration and resources of businesses, research organisations, educational institutions and community groups within the park," he said.
Whitby added that this innovative approach will examine how resources within the school – which will be open beyond normal hours – are used. Students and teachers will also be able to contribute back to the community through real-world learning projects.
"Through local and global networks, this Catholic school will make a positive and real contribution to our changing and challenging world. This school will also work with post-school institutions to provide direct enrolment to their courses rather than access via the traditional HSC/ATAR pathway," he said.
"And the arts will not be forgotten. They will be embedded into the curriculum and in the everyday life of the school."

Whitby pointed out that the school's leadership framework will be based collaboration and cooperation among school leaders and teachers and educators and will work with the scientific and tech-focussed enterprises in the park.
"Our schools have to keep pace with the dramatic changes in modern society, and unfortunately our education systems have struggled to keep pace with these changes. We realise that we need to look ahead with new eyes," he said.
"The young people of western Sydney deserve this opportunity – we owe these young people the best."
Whitby said young people need to be taught to develop a broad skill set that includes collaboration, critical thinking, problem-solving and creativity that can be applied across any discipline and can take advantage of any technology developed now and in the future.
"The ability of all students to learn and relearn will be the best skill we can teach our young people in an ever-changing world. Let's focus on the long game of learning for life, not the short term 'skilling up' of students," he said.
"We need to address the broader challenge of designing a new curriculum for today's world, one that enables new forms of knowledge and competencies that includes arts, sciences, values and attitudes needed to contribute to growth and innovation."
He added that it doesn't make sense for schools to simply shift their focus towards­ one specific skill set, such as coding and programming.
"The reality is, the technical skills we are teaching students today may well be superseded by the time they enter the workforce," he said.
Whitby explained how the new school will differ from the existing P-TECH program, which is being rolled out across Australia.
"At McCarthy Catholic College we have a technology emphasis in the P-TECH program and have two main industry partners as a start PwC and Telstra. In 2017 every Year 9 students will have immersion experiences in both industries in areas such as cybersecurity and Big Data," he said.
"The students will be connecting and building relationships with our industry partners, and engage in hands-on, project-based activities, both at school and in the workplace. These experiences will help students to make informed decisions about their future careers and pathways."

Whitby said that with the College and industries working together, the CEDP are able to engage students with the world of work before their senior years and enable students to better understand the relevance of their learning to jobs and post-school pathways.
"Another important element of our partnership is our connection to Western Sydney University (WSU) and TAFE. Together these post school pathways are offering early support and transitions for our students from school to further education and post-school qualifications," he said.
Whitby added that the mentor relationship between young people and industry personnel provides continuity of support for students to achieve a post-school qualification.
"The mentor relationship ensures that student learning stays on track and also provides opportunities for guidance, to help young people make informed decisions regarding their education, training and employment options," he said.