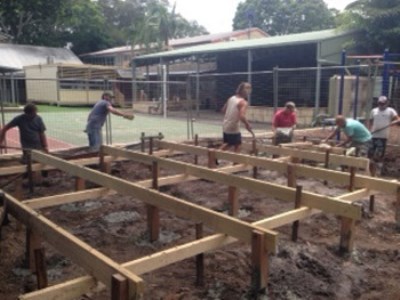 Brunswick Heads Public School principal, Trisha Parker, is someone who knows the value of community engagement first-hand.
The school recently celebrated the culmination of a successful two-year fundraising campaign that saw a 47ft 'adventure boat' added to the school's playground.
"What was initially estimated as a week's work for a couple of builders and a few helpers turned into three weeks and over 750 hours of hastily organised voluntary work to get the playground ready for week 1, 2015.
"After two years of relentless P&C fundraising for the new playground, it was both very exciting and extremely challenging to face the building project over the recent (sweltering!) Summer holidays," Parker told
The Educator
.
Parker said the children were overjoyed to see the culmination of all the work they had done along with the school and the Brunswick community.
"Watching the children's faces as they arrived at school and discovered their new playground for the first time was joyous," Parker said, adding that the project "genuinely reflected" the major components of what the students, teachers and parents wanted.
"The idea of an adventure boat playground was the result of this collaboration and it meant that the whole school community had a vested interest in the new adventure boat design of the playground," Parker said.
"They felt engaged, and listened to,"
Research from Australia and overseas has found that students achieve better outcomes from their education when schools, families and the community work together to support student learning.
A Government report, titled
Strengthening family and community engagement in student learning
, listed various benefits of community engagement, including increased respect between schools and their communities, higher student self-esteem and improved attendance and literacy rates.
"It is humbling and inspiring to be part of a community effort as big as this, to find yourself rolling paint alongside parents who'd taken annual leave from their jobs to help," Parker said.
"There were 70 year old grandparents who came every day to paint or wheelbarrow dirt around, and professional builders and carpenters who'd forgone paid work to build something so beautiful."