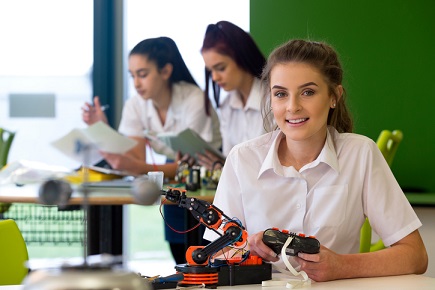 A recent study, conducted by Ya-Hsuan Wang from the Institute of Education, National Chung Cheng University, found that single-sex schools are advantageous for women's pursuit of careers in the technology fields.
The study builds on a body of research showing that many female students in single-sex schools are already achieving outstanding results in STEM participation.
For instance, a 2017 study from Monash University showed that girls at single-sex schools are up to 85% more likely than co-ed girls to take high-level STEM subjects including physics and advanced maths.
According to the Alliance of Girls' Schools Australasia( AGSA), the Monash research, like Wang's study, also revealed the importance of family in girls' subject and career choices – and it is not just STEM participation where girls' schools have a positive impact.
"We may also see an overall improvement in gender parity," AGSA executive director, Loren Bridge, told The Educator.
"Girls thrive in an all-girls learning environment free from gender bias, stereotyping, and social pressure from boys."
When comparing her experience in a co-ed school and single-sex school, one of the women interviewed for the Taiwanese study said that teachers felt she should have scored behind the boys even though she topped the class.
"It seemed to him I should be left behind boys. However, my high school is a girl school where everybody is distinguished. I found teachers never treated us with gender discrimination," the student said.
"I never heard that boys are superior to girls or girls should focus on their conduct more than their achievement."
So what can schools wanting to encourage and inspire girls to participate in technology-related activities, subjects and careers take away from the findings of this study?
Bridge said girls need strong female role models, such as teachers, alumnae and guest speakers, from a young age.
"It is important that girls see and hear from successful women in STEM careers. Both schools and families have a vital role to play in overcoming gender bias, expectations and stereotypes," Bridge said.
"We would argue that it is a combination of family support, as well as the work that girls' schools do in challenging gender stereotyping, that gives girls confidence in the traditionally male subject areas of STEM, and this provides the ultimate platform for successful technology-related outcomes."
Bridge said that, as noted by Dr Nicole Archard, Principal of Loreto College Marryatville in South Australia, "girls' schools do more than just teach the curriculum".
"What girls' schools do is purposefully develop girls to understand their gender identity and to shape their self-concept, self-efficacy, and self-confidence so girls develop the knowledge and skills required to reject and overcome the gender stereotypes that attempt to define them," Dr Archard said.