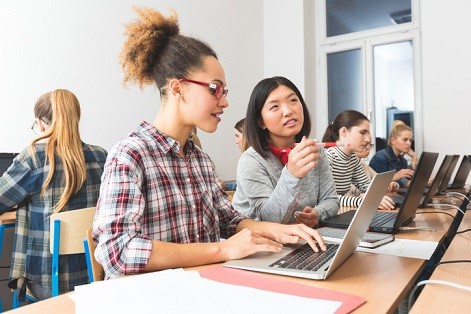 A new study finds that good language skills in kindergarten can predict student performance in other areas, including math and reading.
According to researchers from the University of Washington, not only does a child's use of vocabulary and grammar predict future proficiency with the spoken and written word, it also improves academic performance across other subject areas.
The study, published in Early Childhood Research Quarterly, researchers examined longitudinal data from more than 1,200 children in the National Institute of Child Health & Human Development's Study of Early Child Care and Youth Development.
The researchers used several measures of academic and social skills at specific ages and grade levels, including evaluations upon entry to kindergarten and in grades 1, 3 and 5.
"A lot of other research focuses on math, science and literacy, and they don't even consider that language could be playing a role," Amy Pace, an assistant professor in the UW Department of Speech and Hearing Sciences, said.
"But really, it emerges as a strong predictor across subject areas. Why do kids succeed in math, for example? Part of it could be having a strong math vocabulary."
The UW study – which was the first to look at a comprehensive set of school readiness skills in order to determine the best predictor of a child's success later in life – revealed that language was at the top of the list.
Pace and her team said the study represents an opportunity to rethink what skills are considered measures of kindergarten-readiness.
"Language ability at school entry consistently emerges as an important predictor of student outcomes," Pace said, adding that this may be why the first three to five years are so critical for future academic and social development.
"It is the child's earliest, high-quality interactions with parents, teachers and caregivers that promote a strong communication foundation – and this foundation goes on to serve as the bedrock for future language and learning."
Related stories:
Why migrant students perform better at school
Schools must fight racism to become inclusive
'Race lessons' coming to preschools