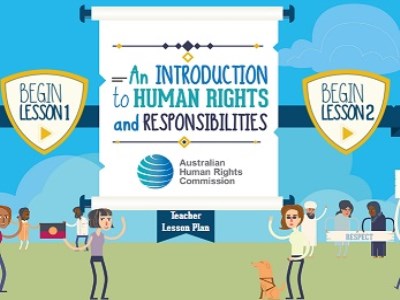 The Australian Human Rights Commission (AHRC) recently launched an
interactive website
, as National Children's Commissioner, Megan Mitchell, addressed the Australian College of Educators (ACE) annual conference last Tuesday.
The new website was added to the list of the AHRC's educational resources in a push to introduce Year 5 and Year 6 students to the concept of human rights.
The Commission's series of education resources - RightsED - are designed to help students gain a critical understanding of human rights and responsibilities, and to develop the attitudes, behaviours and skills to apply human rights in everyday life.
Mitchell told
The Educator
that providing education about the importance of human rights is "one of the central functions" of the AHRC.
"Through our free school resources, we aim to support teachers and students to apply human rights in their day-to-day lives and bring about positive change within their communities," Mitchell said.
"In the past, the Commission has mainly focused on developing resources for high school students. However, there is no age-limit for learning about human rights and it is important that human rights education is embedded in primary schools and early childhood education as well."
Mitchell added that the development of the Civics and Citizenship learning area within the Australian Curriculum provides the impetus for creating 'An Introduction to Human Rights and Responsibilities'.
"The key concepts of 'rights and responsibilities' and other fundamental human rights principles such as justice, respect, democracy and freedom are strongly interwoven throughout the Civics and Citizenship curriculum," she said.
"Through 'An Introduction to Human Rights and Responsibilities', we wanted to give primary school students in years 5 and 6 the opportunity to engage with the powerful and inspiring ideas contained within the Universal Declaration of Human Rights and the Convention on the Rights of the Child, and connect these ideas to their own rights and responsibilities as active and informed citizens."
So do enough Australians have a strong understanding of human rights and responsibilities?
Mitchell said that while many Australians have "a profound appreciation" for equality, fairness, justice and democracy, this often doesn't translate to an awareness of how these principles are elaborated in our national laws and international human rights obligations.
"Human rights are not just abstract constructs that exists in international human rights treaties, they are tangible and achievable moral principles that can be, and should be, part of our everyday lives," she pointed out.
"For children and young people, these relate to very basic entitlements like the right to be safe, have a home and a family, get a good education and be healthy."
She added that this is why it is important for schools to integrate education about human rights into the curriculum.
"Activities such as those in 'An Introduction to Human Rights and Responsibilities' aim to encourage students to actively take part in advancing respect for their rights and the rights of others, in the classroom and beyond," she said.
Principals can play a significant role
Mitchell said that from the conversations she has had with educators, it is clear to her that in order to boost awareness of rights and responsibilities Australia need strong human rights champions within its schools.
Earlier this year the AHRC conducted a survey of over a thousand teachers across Australia to ask them what they thought about teaching human rights. Almost all respondents (98%) considered it important that they educate their students about human rights.
However, teachers also pointed to the considerable challenges they face in doing so, first and foremost of which was of course the crowded curriculum.
"It's important to emphasise that human rights education is not just about teaching students the occasional lesson on international treaties. It's about embedding human rights values throughout the Australian curriculum and within teaching practices," Mitchell said.
"Here, educational leaders such as principals have a powerful role to play in promoting human rights as a core value within their schools.By empowering students to become active and ethically aware citizens, Australian teachers and educators are at the forefront of building a just and cohesive society."