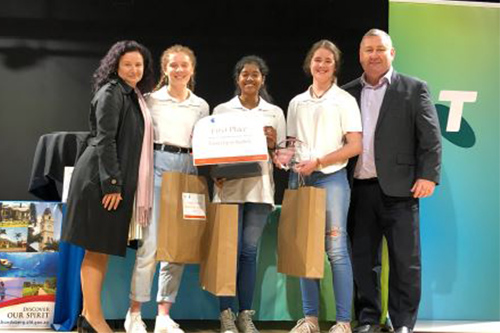 For students interested in science, a trip to the Kennedy Space Centre might seem like a dream come true.
For three students from St Luke's Anglican School, this dream will soon become a reality.
This week, Mercedes Thomas, Tessa Bryden and Nawshaba Ahmed discovered they will be jetting off to the famous space centre next year after winning the Australian Conrad Challenge, which connects students in Australia to leading innovators around the globe.
In April 2020, the three young innovators will participate in the four-day Conrad Innovation Summit at the space centre. Once there, students from around the world will present their innovations to a panel of expert judges who will provide on-the-spot feedback.
There will also be opportunities for the participating students to win scholarships and internships, as well as patent support and business assistance to grow their concepts.
'An outstanding achievement'
Head of Learning and Innovation, Matthew Hughes, said one of the school's strategic priorities is "dynamic learning".
"This is where we not only engage with the requirements of the Australian Curriculum, but seek to ensure our curriculum offerings provide the opportunity to develop curious, creative and independent problem solvers who can work both individually and collaboratively," Hughes told The Educator.
"To this end we are always on the lookout to provide a range of learning strategies, from direct instruction all the way through to flipped, inquiry and problem-based learning."
Hughes said innovation has been a focus at the schoool for some time and isn't something it does in addition to curriculum. Rather, he says, it is part of the holistic teaching and learning approach the school takes.
As Team Melior Terra, the three St Luke's students won Best Innovation for CLEARN – a scanning system that tells people what can and can't be recycled and rewards them for checking.
Hughes said the school's participating students represented 20% of all finalists across Australia.
"That is an outstanding for any school," he said.
"The team is excited and looking forward to gathering with like-minded peers at the American Summit."
He said the "amazing" amount of learning that is evident throughout the Conrad Challenge was cause enough for the school to be involved but taking out the top prize was the "icing on the cake."
Hughes lauded the school's other teams, KYOOR and Eco-Moo, which received very high praise for their booths and pitches, and were among the best on the day, but unfortunately didn't make it through to the next round," he said.
"Planet Pipeline and Melior Terra both made it to the Power Pitch round. It was incredibly close but Melior Terra took home the first-place position."
Hughes said it was the second win for Melior Terra, who also took out first place in the Mayor's Telstra Innovation Awards earlier this year.
"The mentoring and experience available through the Mayor's Telstra Innovation Awards certainly helped them refine their ideas ahead of the Conrad Challenge," he said.
A future-focused leadership
St Luke's Anglican School's principal, Craig Merritt, said his approach to driving innovation at the school is centred on being conscious that the world in which students will be graduating into will be very different from the past.
"At St Luke's our mission is to be a dynamic and inclusive learning community grounded in our Anglican tradition and embracing excellence, service, innovation and global thinking," Merritt told The Educator.
Merritt said students "deserve the opportunity to develop the skills and dispositions that support innovation and entrepreneurship."
"We focus on providing such opportunities across the curriculum," he said.
"Many of our students come from agricultural backgrounds, they see at first hand the necessity to innovate and be entrepreneurial to remain competitive in the economy."
Merritt said students and families deserve the highest quality educational experiences "irrespective of the fact that St Luke's is a school in regional Queensland."
"We focus on supporting and challenging our students to be the best they can be," Merritt said.
Cultivating innovative thinking in students
Hughes said that while St Luke's has a "considerable technology agenda", its work in innovation is distinct from the work being done in technology.
"Our innovation priority is more about innovative thinking, and trying to cultivate this in students," Hughes explained.
Hughes said that in early 2018 he was fortunate enough to hear QUT academics Dr James Davis, Dr Colin Jones and Dr Chris Blundell speak about innovation and entrepreneurship in schools.
Dr Davis, Jones and Blundell spoke about classifying the work schools are doing around explicit innovation education in three stages. Stage 1 was add on programs, Stage 2 was curriculum-based offerings and Stage 3 was innovation as a cross curricular priority.
"This year St Luke's completed Stage 2, adding a Year 9 innovation elective to the 'Innovate' class that is mandatory in Years 4 to 6 and the Business Enterprise elective in Year 10," Hughes said.
"Next year we aim to commence Stage 3 by formalising our 'Future Thinkers' thinking framework and then rolling it out across all learning areas in 2021."
'A more immediate and dynamic system'
As the school's principal, Merritt is also gearing up for a big year ahead. He said another exciting initiative the school has in store for its community in 2020 is focused on student feedback, which will reshape the way students and parents access academic results.
"We have decided to change the way we do semester reporting for our students, moving from a rather traditional and static end of semester system to a more immediate and dynamic system that gives students and parents access to results and importantly teacher feedback as soon the assessment is marked," he said.
Merritt said this approach focuses on learning growth as it ensures feedback is timely and future focussed rather than waiting weeks or even months for a teacher summary.
"We are used to having immediate access to information in our lives, this system provides an opportunity to support the learning growth of our students and work in partnership with parents," he said.