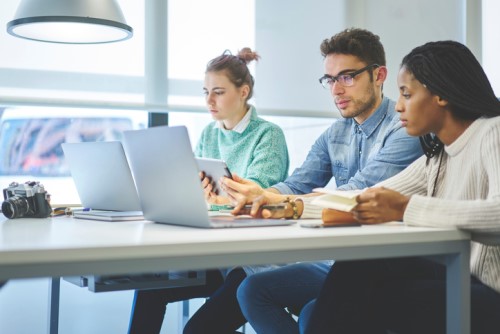 New research shows a significant number of young people lack certainty about their chosen career after completing their studies.
The survey of more than 1,000 young people by Student Edge's market research arm, YouthInsight, in partnership with frontline youth service ReachOut, found many young people want more jobs to be created and additional help finding work through opportunities such as paid internships and training.
According to the data, 45% of young people were not confident, or were unsure, of finding work in their chosen career after completing studies; with 46% fairly confident and only nine percent very confident of finding work.
'Robust public conversation' needed
ReachOut CEO, Ashley de Silva, said the results of the survey show that many young people feel unprepared to enter the new working world.
"The platform economy, driven by services like Uber and Airtasker, is on the up as is a shift towards short-term contractual work or 'gigs' and freelancing," de Silva said.
"With this new data showing that so many young people are uncertain about their future, it's clear that we need to have a robust public conversation around what new skills and training are needed to provide the greatest chance of success."
de Silva says while this lack of confidence is about the future, it affects the mental health of young people right now.
"The uncertainty that surrounds the transition from study to work means that it is a priority to look at how we can best support the mental health and wellbeing needs of young people," he said.
"We also want young people to know that support is available for them at ReachOut.com."
The survey also asked young people what changes needed to be made to help them find work. 74% said there needed to be more opportunities for paid internships and training positions, and 72% said more jobs needed to be created for young people.
A further 58% said learning skills to support job applications, interviews and career management would help, while 55% wanted more support to develop skills in problem solving, critical thinking, communication and teamwork.
Career management skills needed
Student Edge's Head of Membership, Simon Miraudo, said that young people faced barriers to getting full-time work, with many employers looking for previous work experience and seeking soft skills such as problem solving, creativity and good communication.
"When it comes to helping young people get a job, we need to make sure they have the right skills," Miraudo said.
"Ensuring young people are taught career management skills is essential to meet both employer requirements and to prepare students for a future that will involve multiple jobs and career changes."
The research was conducted by YouthInsight, the full-service market research arm of membership organisation Student Edge, to deliver insights into the unemployment stresses of young Australians aged 16 to 24