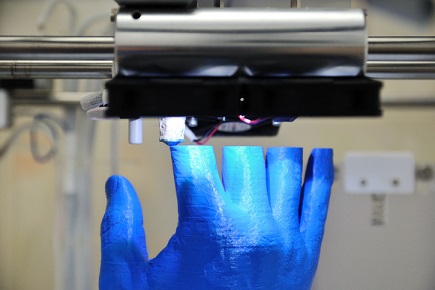 The potential for 3D printing to transform the way young people work once they leave school is limitless.
In China, 3D printers have been used to build houses. In space, this same technology is being used by astronauts to print parts required on space shuttles. There are even 3D printers that produce edible burgers, pizza and chocolate.
According to Adam O'Neill, managing director, Australia, Y Soft, the application of 3D printers in K-12 schools is equally diverse, providing principals with an opportunity to improve the way students learn in the classroom.
"This technology is being used in STEM subjects to build structures, models, and algorithms. It can also enhance learning in history, geography, and the arts," O'Neill told The Educator.
"For example, using 3D printing capabilities, history teachers have tasked their students with sculpting historical scenes and dress, visual arts students have created unique artworks, and food technology students have produced baking and freezing moulds for food design."
O'Neill said 3D technology can also help primary school children draw and measure.
"As well as HSC-level construction, students can create small-scale structures of real-life buildings," he said.
"However, beyond these important school subjects, 3D printing allows children to exercise their creativity, and to experiment and collaborate within groups on projects."
O'Neill said this kind of hands-on learning is "immersive and tangible", which makes it more interesting for students.
"When learning becomes interesting it becomes powerful," he said.
In recent years, 3D printers have become more accessible for the education sector due to the number of 3D printer manufacturers.
One challenge for school leaders, however, is how to select the 'right fit' 3D printer for their school.
O'Neill says that schools are likely to benefit most from 3D printers with an intuitive interface, which is easy to use even for students and educators without advanced 3D printing skills.
"This makes the benefits of 3D technology accessible for all members of the school. It's also worthwhile assessing 3D printers' security and safety measures," he said.
"In a school setting, the most secure printer is one with locking doors, where only designated job owners [or teachers] can pause, stop, cancel, or open the print door. 3D printers that are enclosed are safer as children are not exposed to moving parts and high temperatures."
Additionally, says O'Neill, the type of printing material is important to consider.
"PLA is considered the most environmentally safe and does not contain toxic fumes. Schools should also look for a 3D printer with print management included," he said.
"With the right print management solution, schools and manage both 2D and 3D printers in the same platform making it easier to manage the entire fleet. It will also give schools the ability to report on, and allocate costs, based on usage and 3D material consumption."
With 3D printing expected to transform a range of industries from construction and medical science to defence, O'Neill said this technology will equip the future workforce, with skills in agility, adaptation and experimentation becoming highly valued.
"The manufacturing, engineering, and geography industries are most likely to see the greatest uptake of 3D printing, but 3D printing offers significant benefits to a broad range of industries," O'Neill said.
O'Neill said it is difficult to know what careers will be in demand in five or 10 years when students are in the workforce. However, he said students with experience using 3D technology to generate ideas, models, artwork, and answers will be assets to their future workplaces,
"This will allow them to bring a unique and diverse skillset, including highly-effective abilities around creating, building, visualising, and problem-solving," he said.