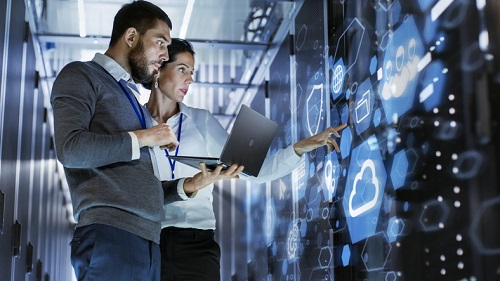 Edu-tech experts say competition in Australia's multi-billion-dollar education sector is driving schools to embrace data analytics and cloud-based solutions, as well as invest in collaborative and interactive learning technologies.
Speaking during a round-table discussion in Sydney on technology trends and cyber-security in Australia's education system last month, Damian Aivaliotis, strategy and portfolio manager of digital automation at Ricoh – said the trend towards collaborative learning in particular makes it incumbent upon schools to explore tools and solutions which facilitate this practice.
"Schools are undergoing a transformation capable of driving the focus to the future of education, encouraging a new wave of teaching and learning that are inclusive, with spaces specifically signed for collaboration," Aivaliotis told The Educator.
"Collaborative technology, like large format touchscreens and distance learning platforms, play a key role in daily learning and devices including iPads and laptops are also used prolifically."
Aivaliotis said schools need to need to also think about document digitisation (Records Management), process automation, print services and how they support the controlled exchange of information within schools.
"Today's school leaders can have secure and robust wireless connectivity and network infrastructure to support (BYOD) and collaboration technologies; interactive learning solutions (panels) to facilitate collaboration in the classroom and meeting rooms, and distance learning platform (Unified Communications) that unifies voice and video across multiple platforms and locations," he said.
According to Aivaliotis, Ricoh's unique value is that these solutions are integrated and work seamlessly together to make the user experience simple, smart and practical.
"With increasing availability of products, information and services available almost instantly at the finger tips from all over the world, schools need to accelerate change in technology and productivity to compete," he said.
"Technology in schools is shifting from simple tools used in days of the data projector, to solutions that integrates with everything, and it is transforming teachers into active participants rather than just facilitators."
Aivaliotis said modern innovations in IT architecture, both wired and wireless, plus the growth of smart mobile devices, and cloud applications viewed on large format touchscreens are disrupting the traditional practices.
"Ricoh is helping schools with robust and scalable campus-wide networks that support both students and teachers by offering core network infrastructure and the latest wireless network environments," he said.
"This is all wrapped in the latest security offerings such device and end point security."
Aivaliotis said this is the foundation that supports Ricoh's other offerings, Interactive learning solutions, unified communications, information management and process automations solutions.
'Transforming school operations'
Aivaliotis says office staff, management as well as teachers are spending too much of their time on manual information tasks, taking away the focus on education as well as reducing competitiveness in the educations space.
"The 2017 report findings from the Royal Commission into institutional responses to child abuse highlighted key areas where digital transformation can really transform school operations," Aivaliotis said.
"Schools generally have poor internal process that are driven by paper. These inadequate processes can contribute to failure to keep children safe in schools through inadequate recruitment practices."
Aivaliotis said such inadequate practices include failing to undertake referee checks, allowing staff to work with children without a Working with Children check, and lack of induction processes.
"Schools should implement digital processes with audit trails," he said.
Aivaliotis said five processes that benefit from automation include:
Student and staff enrolments
Purchase order requests
Excursion and incident reporting
Student safety and intervention
Financial process automation
Improved recordkeeping
According to Aivaliotis, schools should be required to comply, as a minimum, with standards applicable to government schools in relation to the creation, maintenance and disposal of records relevant to child safety and wellbeing, including child sexual abuse.
Information sharing and collaboration
Aivaliotis pointed out that the lack of information sharing between teachers, employers and teacher registration authorities, can enable perpetrators to continue to pose a risk to children by moving between schools or jurisdictions.
"There is a greater need for information sharing and exchange," he said.