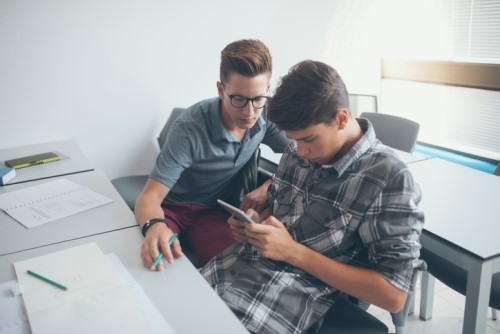 Recent reports highlight that Australian students are falling behind when it comes to developing basic skills in primary school, while one in five 15-year olds aren't achieving the standard they should be for maths, reading and science.
The social and emotional wellbeing of students is also an increasing concern to teachers, parents and the school community, and Australia is now ranked in the bottom third of OECD countries on primary school bullying, feeling of belonging at school and school-related pressure.
To help schools overcome these challenges, one technology company has created a real-time feedback tool to help students overcome their learning anxieties in the classroom.
The Student Feedback Tool – created by technology company Vivi – was developed in partnership with teachers and is being trialled in several schools across Australia.
It provides students with a safe and discrete way to communicate their emotional state and general wellbeing through a series of emojis that are tailored to school requirements.
The tool monitors student engagement to identify disengaged, bored or challenged students, shares instant results related to lessons with the class (or keep them private), and sets up alerts for school staff triggered by results of wellbeing polls.
"We launched Vivi in 2016 in response to an educator's request for a device agnostic wireless screen mirroring solution," Natalie Mactier, Vivi CEO, told The Educator.
"Since then the platform has evolved into a comprehensive classroom engagement solution, by crowdsourcing features directly from users."
Mactier said Vivi's goal is to improve student outcomes and wellbeing by enabling teachers to effectively manage their classroom while encouraging student participation.
"With Vivi's new Student Feedback tool, a teacher can instantly poll the class to gauge understanding or check on their wellbeing, then use the insights to adapt instruction, personalise the learning environment or circle back to students who may need extra help," Mactier explained.
"Teachers constantly tell us that Vivi has changed the way they teach! Although the basic screen mirroring functionality is now over three years old, it's made a huge impact."
Mactier said the resource "untethers" the teacher from the front of the classroom, so they can engage with students in a more personalised way and manage the class from anywhere in the room.
"Early results from the Student Feedback tool show students who wouldn't normally reach out for help, are more comfortable communicating this way because it's discrete," she said.
One school is integrating the tool with their resilience program to provide support to students who self-report unhappiness to ensure they don't feel alone or unheard.
Julianne Dennett, Head of Positive Education at Loreto Toorak, said the tool differs from other technology on the market because of its ability to work with existing lesson content.
"Teachers aren't required to prepare questions ahead of time or load into a separate technology system," Dennett told The Educator.
"As a result, they can quickly initiate a feedback session when they see fit. Vivi captures a screenshot of what's being presented at the time for them to refer back to later. It's also a highly visual system, through the use of emojis, which our students can easily relate too."
Dennett said Vivi allows her as a school leader to provide our educators with a way for them to incorporate feedback into the classroom, using a product that is already familiar to them.
"Secondarily, it gives our students a voice in the classroom, building their confidence," she said.
Once feedback is gathered, said Dennett, educators can utilise the positive education, coaching and goal setting frameworks to adjust their teaching or work with students outside of class time.
"And because all feedback data is centrally stored, I can complete data analysis to look for trends, and implement additional support as required," she said.