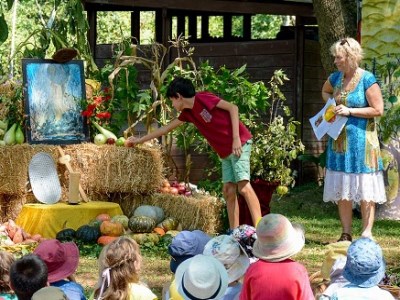 Steiner schools are rising in popularity across Australia with four new schools built since 2012.
Steiner Education Australia is the not for profit national association/peak body representing over 40 Steiner/Waldorf schools and 10 Associate members throughout the states and territories of Australia.
The most recent schools have been built at Queensland's Moreton Bay, Victoria's Bairnsdale and Bowral in NSW, while another is undergoing construction this year in Tasmania.
A fifth school is planned for Agnes Waters in Queensland next year.
So what is behind their rise in popularity?
The schools' "enriched curriculum" – spanning early childhood, primary and secondary – includes festivals, an international exchange, Indigenous outreach and a digital technology course.
However, Steiner education is underpinned by a strong focus on "whole of child" education, a philosophy which pervades its campuses in Australia and around the world.
Steiner Education Australia (SEA) CEO, Tracey Sayn Wittgenstein Piraccini, told
The Educator
that the system's rise in popularity was due to a combination of parents being drawn to its "holistic approach", as well as being upset with many aspects of traditional, mainstream schools.
"Parents are starting to investigate what they want for their children," she said.
"Many years ago parents just sent their children to the school down the road, because the world is changing at such a rapid rate. The old forms of schooling just aren't working."
'Contributing to society with initiative and purpose'
Sayn Wittgenstein Piraccini said Steiner schools aim to develop young people who can contribute to society with initiative and purpose.
"We do this through relevant and creative curriculum which meets the developmental needs of young people and strong student/teacher relationships. Teachers are expert and passionate, using the arts to deeply engage students in creative and academic endeavour," she said.
"We aim to develop ethical, capable individuals who can live their lives with meaning and purpose. We want graduates to see themselves as able to not only make their own future, but to have the confidence to make a difference in the world."
As for the schools' principals, Sayn Wittgenstein Piraccini said their day-to-day job is no different from that of other mainstream principals but added there was a particularly strong focus on enhancing collaboration between teachers and students.
"Steiner schools highly value collaboration and teachers working together, being involved in many aspects of the school and decisions that affect students," she said.
"Therefore, a key practice of any Steiner leader is to work very closely with the College of Teachers as a community of professional educators supporting the ongoing development of Steiner philosophy, values and ethos as well as professional practice and pedagogical principles that are integrated throughout school policies and the curriculum."
Moving away from standardised testing
Sayn Wittgenstein Piraccini said that the growing demand has also seen the introduction of a Graduate Certificate and Masters in Steiner education at the University of the Sunshine Coast next year.
"Our plan is to really engage with mainstream education and work alongside our peers in education to try and actually bring impulses from Steiner education into all aspects of education," she told the
ABC
.
Sayn Wittgenstein Piraccini pointed to the importance of good dialogue, adding that through this, "all children benefit from an excellent education" and are engaged in their learning.
"That will bring about a better country for Australia — not narrow standardised testing and data-driven policy that is just impacting on teachers at every level."