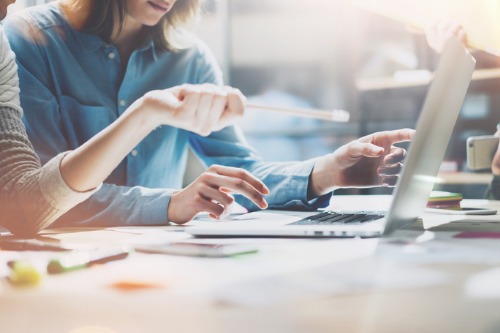 Recently, five students from Dunoon Public School in NSW were hailed as this year's 'Next Tech Girl Superhero' for their Read Smart app – a tool aimed at helping people with reading and speaking difficulties.
The school's principal, Genevieve Slocombe, said the development of the app stems from the fact that one of the developers has dyslexia.
"The app is a terrific literacy resource, and its development has been a great learning experience for the team," Slocombe said.
"It has involved the team gaining a deeper understanding of language themselves, and then translating that into practical support through the software."
Technology is also being used to help educators keep a finger on the pulse of their students' mental health.
According to reports, Australian children experiencing mental health issues are lacking sufficient support. The Kids Helpline reported that some 51% of the requests they received were left unanswered in the first six months this year due to funding shortfalls.
While there are concerns that technology is doing more harm than good in classrooms, is also being leveraged to improve outcomes and opportunities for at-risk students.
Rachel Downie, who had been a teacher for over 20 years developed a website that allows students to notify their school of instances such as bullying and harassment, or when they experience suicidal thoughts.
Last month, a web-based mental health service was piloted in NSW high schools to help counsellors identify students with symptoms of mental illness.
And on Thursday, the University of Southern Queensland (USQ) announced it developed a web-based app to help make it easier for adults to identify symptoms of mental health issues among primary school students.
How it works
The online assessment tool can help children as young as five to identify their emotional and behavioural difficulties by pressing on an animated character that can related to what they are feeling.
"Often children don't have the words to explain to a grown-up that they're feeling worried, sad or anxious," Associate Professor Sonja March, USQ's Research Program Director of Innovative Mental Health Solutions, said.
"This screening tool will give them a voice through the use of child-friendly animations presented in an engaging and easy-to-use formatted instead of […] written questions."
The app, which is expected to be officially launched next year, will be the first-ever online self-reported screening measure for children in primary school.
Kirsty Zieschank, the project leader and a PhD candidate, said they worked with 80 children to ensure they can connect with the 30 animations used in the app.
The app can help identify children who are at a higher risk of developing mental health disorders later on in life, especially if they are not given proper and early intervention.
"By allowing families, mental health professionals and educators to obtain this information directly from the child at the earliest opportunity, it can red flag potential difficulties, provide instant feedback and recommendations for further assessment, and provide a path to intervention if necessary," Associate Professor March said.
Early detection of mental health issues has also been shown to help educators foster the right environment to help their students yield good learning outcomes.