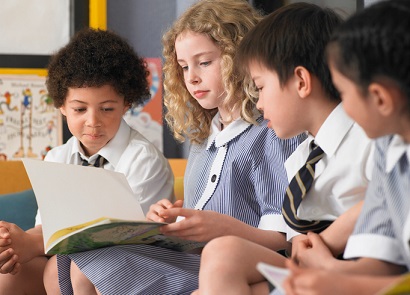 A quick glance at Australia's student population shows that it is among the world's most diverse. A substantial number of foreign students are thrown in the mix of a growing number of Indigenous students and nationals of different faiths and sexualities.
Universities often have programs to help international students adjust, and some institutions even have Confucius Institutes to help bridge the cultural and linguistic gap between Australia and China, given that the latter is our top source of international students.
Lately, greater attention has also been given to improving support for Indigenous students. Dr Cris Edmonds-Wather, an education lecturer at Charles Darwin University, is looking into how mathematics can be taught in Indigenous languages.
"We know that students learn best when they are learning in their own language," Dr Edmonds-Wather said.
"But with so many languages spoken by Indigenous people in Australia alone, the education system could benefit from a pathway for teaching maths in these languages."
But what about students with special needs?
The OECD's 2018 Teaching and Learning International Survey reported that on average, 29% of teachers educate at least 10% of students with special needs, a few points higher than the average of 27% recorded in the report.
On average, 18% of school principals reported that the shortage of teachers who are competent enough to teach students with special needs is hindering the quality of education in their schools (lower than the OECD average of 32%).
The OECD report broke down the numbers further: while 74% of teachers were trained to teach in mixed-ability classrooms, only 38% of these teachers expressed confidence that they can handle such settings upon finishing their training.
Some 12% of teachers also believe there is an increasing need for training in teaching children with special needs. However, 58% of teachers also took professional development activities which included teaching students with special needs a year prior to the survey.
And this is despite Australia having opened its first schools for children with special needs in the 1860s – primarily only for the deaf or blind. It was not until the 1920s when schools began accommodating students with other disabilities.
It wasn't until more than a century later that state governments took responsibility for education in these schools and had separate units integrated in regular schools.
Work needed on professional standards
Jane Jarvis, a senior lecturer in Education at Flinders University, wrote that not all schools are required to employ teachers who are qualified to teach special education.
A 2014 study published in the Australasian Journal of Special Education found that less than one-third of schools explicitly look for teachers who have experience in special education.
Jarvis added that unlike the US and UK, there is no national and professional standard set for teachers who can engage in special education.
For renowned Finnish educator Dr Pasi Sahlberg, a change in curriculum is also necessary. Amid increasing concerns from educators and parents of the increasing prevalence of mental disorders such as ADHD among children, Dr Sahlberg said simply giving children more time to play in between classes is a must.
"Educators and paediatricians both agree that play is important for children's development and learning," Sahlberg told The Educator.
However, he pointed out that teaching and learning have been heading in the opposite direction: more pressure on effort and achievement for both teachers and students, longer school days and more homework.
"One reason why this is happening in so many places may be what I call the Global Education Reform Movement that is driven by the market logic of completion and choice, standardised solution, and faith in improvement by measuring all possible elements in education," he said.
"When outcomes don't seem to improve, the problem is believed to be in inappropriate implementation of this logic. More play has rarely been an alternative remedy for disappointing results."