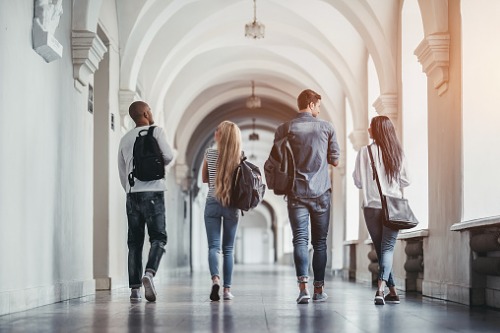 The University of Adelaide has announced it is diversifying its health science degrees amid the the continued popularity of medicine-related degrees among new university students.
Starting next year, the University will roll out degrees in physiotherapy, speech pathology and occupational therapy with more than 100 students expected to enrol across the three programs.
By 2025, students taking up allied health degrees are expected to grow to 700.
Professor Rachel Gibson, University of Adelaide's inaugural professor and Allied Health director, said they have been receiving enquiries from students about when the University will offer allied health degrees for years.
In January, various universities in Victoria and Queensland found strong demand for STEM-related courses among incoming university students – a trend Deakin University said resulted from an increasingly ageing population.
As a response to the continued interest in health science degrees, Charles Darwin University announced it would be rolling out new health sciences courses. Meanwhile, Griffith University has opted to develop new pathways for intergenerational healthcare.
Backed by experience
University of Adelaide Faculty of Health and Medical Sciences executive dean Professor Benjamin Kile said incoming students can benefit from their national and international track record in health and medical education as the university will offer opportunities for interdisciplinary learning.
Professor Kile said the new programs are also supported by collaborations with more than 1,800 clinical titleholders.
The University is recognised for its health course offerings, having ranked 31st in QS World University Rankings by Subject for its dentistry course and 42nd in nursing. The University also fell into the 51-100 range for its medicine, anatomy and physiology courses.
The University of Adelaide's announcement of new allied health degrees also coincides with the SA government's own efforts to improve its healthcare services.
This week, the SA government announced it is rolling out various healthcare-related programs, ranging from the launch of a draft plan to increase the ambulance workforce in rural areas to pledging more services in hospitals and at home care.
State Health and Wellbeing Minister Stephen Wade also announced that the government is investing $16m to improve palliative care services.
Investing in technology
While Adelaide looks to train future allied healthcare workers, Flinders University launched its new $1.5m digital health design lab, which was jointly funded by Cisco's Country Digital Acceleration program.
The lab, which is part of Flinders Digital Health Research Centre, serves as a platform for stakeholders in the healthcare industry to come up with digital health solutions.
Cisco Chair and Digital Health Systems Professor Trish Williams said the lab will also be a place where they can demonstrate practical and scalable solutions to improve health care delivery through the use of technology.