Jump to winners | Jump to methodology | View PDF
ENABLING EDUCATION TO THRIVE
While COVID-19 has affected schools around the country in different ways, the pandemic has universally reshaped the way education is delivered. Schools have had to adapt, react and hike a steep learning curve over the past two years.
Although a recent global survey by McKinsey found that most teachers believe remote learning is a poor substitute for face-to-face classes, it's worth acknowledging the colossal effort that has gone into making it possible at all. It's been achieved not just because of the dedication and hard work of the schools themselves, but also with the support of the many providers they rely on. In this report, The Educator celebrates 43 businesses which, through all the trials of on-and-off remote learning, have walked alongside schools, teachers and students to help ease the transition.
All the 5-Star Service Providers – from school uniform suppliers and recruiters to learning management systems providers and software security experts – are giving schools value for money and enabling optimal use of resources, as well as making transactions as stress-free as possible. Whether they're offering online pastoral care tools or personal development programs for teachers, these providers are ensuring the best possible experience in difficult circumstances.
One of this year's 5-Star Service Providers is CrookED Science, a STEM education consultancy set up in 2015 to help NSW primary teachers navigate the new science syllabus. Founder Simon Crook and his team now assist primary and secondary teachers across the state to deliver hands-on lessons in all STEM subjects.
Science seems like an especially difficult subject to teach remotely, but Crook – a science teacher himself for 15 years – says this need not be the case. His PhD research from Sydney University, on the impact of technology on students in the sciences, has come into its own during COVID.
"I work with Year 11 students and we're using simulations. I designed a simulation back in 2006, on Thomson's experiment, because it required expensive equipment most schools didn't have. Also, it was dangerous so only the teacher could use it. With simulations, students can do the experiment for themselves. That is very empowering."
As for teaching the teachers during the pandemic, Crook says the blended PD model works well.
"I am now running a theory workshop for physics, and when lockdown finishes, I'll do hands-on, face-to-face experiment work-shops, though you can run these to a degree online with simulations. There are challenges but also lots of opportunities. Fortunately, the tech is a lot more reliable than it was a few years ago."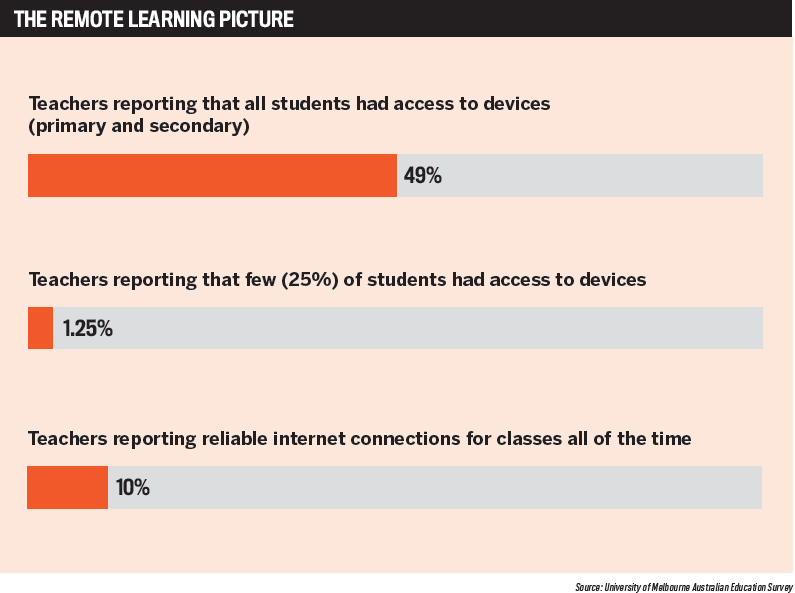 All systems go
Of course, with remote learning, teachers and students are more reliant on tech than ever before. The winning software providers are addressing all those areas that are front of mind for teachers, schools and parents, including ease of use; cloud-based online learning tools that can be accessed securely from anywhere and on any device; seam-less integration with existing systems; ready access to tech support; the ability to easily and regularly track student progress and provide timely feedback; data and student privacy protection; and easing the administrative burden on teachers by automating tasks.
The Accelium (Mind Lab) projects, for example, are helping overcome some of the problems associated with on-and-off lockdowns. Accelium's blended learning solutions combine the use of an online learning portal, where students play and learn simultaneously, with multimedia lessons that switch seamlessly between remote and in-class learning.
"The 'anytime, anywhere, any device' game-based solution provides the platform for students to learn at their own pace, observed and adapted by artificial intelligence at home or in school," says Chris Ramsden of Accelium, who sees himself as a crusader for contemporary capabilities.
"This facilitates the continuation of engaging human-centric thinking skills and wellbeing in a medium which stimulates and inspires the students. Educators, who are the master chefs, can modify the content – our menu – as they see fit and ensure the relevant transferences are made to daily life. And they can easily see progress being made in dedicated data centres."
The platform and associated pedagogy enable schools to make the most of precious resources – ie time and teachers – by helping teachers engage their learners quickly and efficiently, says Ramsden.
"Lessons can be easily modified to suit different learning situations and promote independent learning without the need for constant supervision."
As well as facilitating learning, efficient software solutions are also essential for managing, securing and storing schools' vast volumes of data.
"Schools should look for platforms that are open and standard to ensure they have complete flexibility over how and where they run their system and keep their data," says Sander Bangma, head of LMS at open-source learning platform Moodle, a winner in the learning management systems category.
"In the case of software like Moodle LMS, the source code is licensed in a way that allows anyone to download the entire software for free, to change how it works by writing new code, or to add features to it. This means Moodle is accessible to all schools, irrespective of the demographic or socio-economic profile.
"Plus, schools have the ability to customise Moodle for their specific requirements, whether for a purely online delivery model or blended learning environment. This kind of freedom in education technology is fundamental to allowing education to flourish and grow in a more equitable and accessible way."
Open-source learning provides additional benefits, says Bangma, not least access to a large community of users who are busy fixing bugs, writing new features, updating documentation, sharing tips and resources, helping new users, and delivering a secure management system. Furthermore, schools can have complete control over their data, including how and where they store it.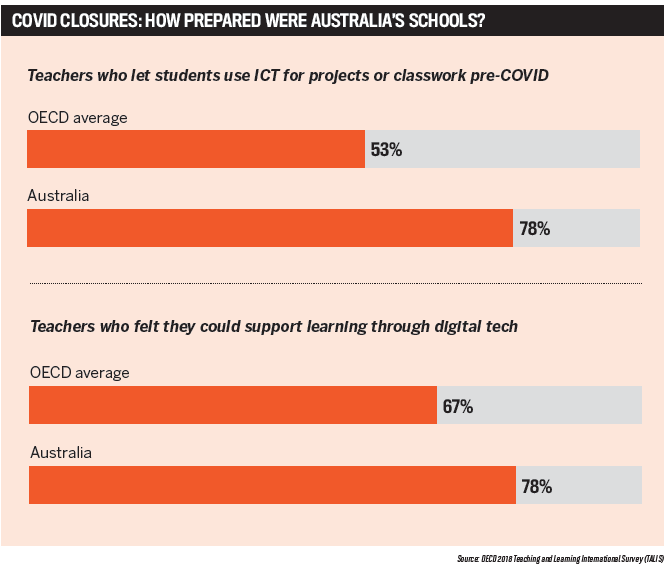 Top marks for simplicity
One common hallmark of all the software solutions provided by the winners is simplicity and ease of use. Edval Timetables is one such solution that makes the complex task of scheduling lessons seamless and user-friendly.
"Schools now need to incorporate the expectations of the school community and educational authorities to be delivering learning in dynamic and creative ways, all the while catering for individual needs of students both academically and from a welfare perspective. The timetable is now a 'moveable feast'," says Michael Emmanuel, Edval's managing director.
Add to that school closures, remote learning and staggered returns to school from lockdowns – including internal contact tracing – and educators increasingly need intelligent software to sort out the timetable tangle for them.
"Our Edval timetabling software works a little like, and I'm oversimplifying here, the navigation system in a phone or car, where the traveller simply enters their destination and the app works out the best path. Schools define numerous destinations, where teachers can be allocated which class, what rooms they can use and how they need to be spread over a week, fortnight or more. Our software takes this information and searches for the best path."
Ease of integration with existing systems is also key, says Emmanuel. "Driven purely by customer demand, we integrate with over 60 other software vendors around the world."
Another platform that is simplifying a crucial and complex task is Cisco Meraki. Safety – both physical and, increasingly, cyber-related – is among schools' top concerns, and security is embedded in every part of the Meraki platform, from on-device encryption to daily dashboard penetration testing.
"Our platform simplifies the technology to ensure valuable IT resources are able to focus on critical issues," says Paul Suhr, sales manager at Meraki.
"Meraki is designed to protect people, devices and assets, both physical and digital, with products ranging from next-generation firewalls to the latest technology to safely bring students back into the classroom.
"Our smart cameras and Wi-Fi access points allow IT teams to monitor safe physical distancing and face mask usage by providing access to video from any device. Simple device location techniques show where students are congregating and where pinch points may be."
This feature highlights only a small sample of the outstanding businesses that made it into the list of 5-Star Service Providers. Whether they supply textbooks or tech, desks or data management, all of them deliver exceptional service and support, innovative and user-friendly products, sustainable solutions and value for money.
Interactive Learning
Accelium Australia
Mathspace
Microsoft
STEM Punks

Learning Management Systems
eSkilled
Google Classroom
Moodle

Performance Tracking

Professional Development

Recruiters
ClassCover
Edutemps
Frontline Recruitment Group & Express Employment Professionals ANZ
Randstand Education
Tes Australia and Smart Education Australia
Vivid Teachers

School Uniform
A Plus Schoolwear
Gosford Tailoring
Mr Charles
Noone Wearhouse
P&C Uniforms
Tudor Uniforms

Security Software

Student and School Management Systems
PeopleBench
SENTRAL
Synergetic
TASS
Xuno

Suppliers
Engadine Music
FUJIFILM Business Innovation
Portable Partitions Australia
Resource Furniture
Teacher Superstore
Between May and June 2021, The Educator invited education service providers catering to schools across Australia to participate in our inaugural TEW 5-Star Service Providers awards.