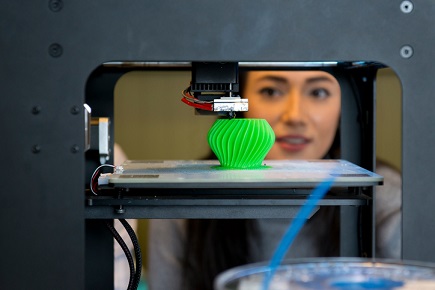 Marist College Ashgrove, located in Brisbane, Queensland, has more than 1,600 students, including 180 boarders and offers both Year 5-12 and VET subjects, preparing students for a broad range of post-school paths.
With the growing importance of science, technology, engineering, and mathematics (STEM) subjects, Marist College Ashgrove (MCA) needed to review its 3D printing capabilities.
Having had 3D printers for the best part of a decade, the College was committed to preparing its students for real-world applications such as industrial design.
After investigating options, Marist College chose the Project 660 3D printer, provided by Konica Minolta, as it ticked the College's boxes; a fast, productive, high-quality printer that lets students and teachers provide vibrant 3D parts at a low cost.
Andrew Devoy, MCA's ITD Coordinator and Senior Supervisor, told
The Educator
how the school has been using this technology to transform teaching and learning.
"There are many STEM-based activities that can help develop problem-solving skills with simple materials and project-based student centred activities. These are no less important and are still very relevant, inexpensive and worthwhile activities, which are fun," he said.
"MCA starts here but has also invested in cutting edge CNC technologies, which are utilised within the curriculum."
Devoy said that the students of today have "no fear or hesitation" about confidently using the equipment we have but also having the knowledge to choose the correct technology for their design solution.
"I believe we still have a way to go but recognising the importance of embedding STEM-related content and technologies into our education system is essential for the successful future of our country," he said.
Devoy said MCA kicked off its use of the Project 660 3D printer, provided by Konica Minolta, by tasking students with creating a branded memory stick to be used by students across the College.
The students designed variations of the memory stick and were able to have their visions realised via the 3D printer.
"Being able to print their visions in full-colour 3D brought the project to life for the students and let teachers deliver information in a new way, by transforming learning outcomes," he said.
"The Konica Minolta team was very helpful and knowledgeable about how to set up and use the printer for the best educational outcomes."
Devoy said this is evident from the ample benefits the school has seen of the 3D printer including the reliable and cost-effective production of full colour functional 3D prototypes in Industrial Design Subject and transforming teaching and learning by giving students access to professional-level, cutting-edge technology.
"This has also helped prepare students for real-world applications and teach them how to innovate using design-thinking principles, as well as differentiate the school based on its approach to teaching STEM subjects using technology like 3D printing," Devoy said.
"We've been able to lease the machine over five years rather than buy it, which has reduced the costs and the risks."
Why 3D printing is relevant to jobs of tomorrow
Devoy said there is no doubt that 3D printing has had significant development in many industries over the past 20 years, but it is the affordability and availability of this technology that has made it more accessible to the household consumer.
"The education sector has embraced this new technology in its STEM programs, which helps prepare the student of today for the jobs of tomorrow, and beyond," he said.
"There is a diverse number of materials available ranging from the early ABS and PLA to Gypsum and UV Resin cured to SLS titanium powders allowing the manufacturing of products on demand in hours, rather than weeks or months."
Devoy pointed to China 3D printing houses and astronauts 3D printing parts in space, adding that 3D printed foods are becoming more common also.
"However, the medical industry must be the most exciting areas forging ahead in leaps and bounds with the emergence of 3D printing of "stem cells" for the regeneration of human organs, which will allow a better quality of life for many people," he said.
"New advancements are occurring each day and this is just the beginning."
Related stories:
School's cutting-edge drone course takes off
New strategy helps principals make a difference