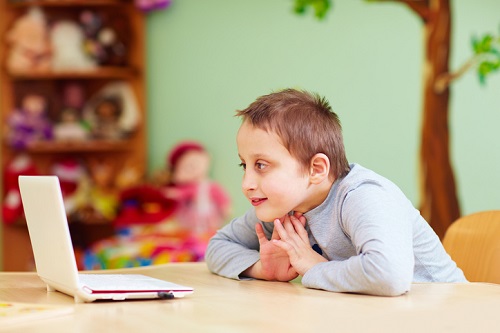 Since Minecraft's foray into schools in June 2015, a growing body of research has shown that the game has several important benefits to students, including improved problem-solving, creativity and engagement.
To help children on the Autism spectrum leverage the learning benefits of this game, the Flagship Microsoft Store Sydney recently partnered with Autism Spectrum Australia (Aspect) to launch a series of free autism friendly Minecraft workshops.
With Minecraft now clocking over 100 million monthly active users globally, this initiative will offer an accessible experience for children on the autism spectrum to explore, build, create and foster social skills through the magic of Minecraft in an environment that supports them.
Aspect worked with the Microsoft Store team to develop its autism friendly Minecraft workshops by training staff and providing feedback on the class learning environment.
Matthew Oastler, Aspect's Autism Friendly Australia Project leader, said Microsoft approached Aspect after receiving an inquiry from a customer looking for a safe place for their autistic son to play Minecraft.
"The Microsoft Store team are highly-committed to giving back to the community and creating a safe place to play," Oastler told The Educator.
"We believe that there is a growing need for more inclusive, autism friendly spaces, and Microsoft has shown commitment to helping us to achieve a more inclusive society."
'An inspiring initiative'
Meliana, a parent, recalled how her daughter Mariane attended one of the workshops after watching her brother playing Minecraft at home.
"At the workshop she was able to share her love of Minecraft with her peers and create her own designs, working with other gamers," she The Educator.
Meliana said the quiet nature of the workshop along with the staff at the Store made the experience much more enjoyable from her perspective.
"It also made the experience enjoyable for me, as there were no distractions or overwhelming moments," she said.
"This is an inspiring initiative by the Microsoft Flagship Store that has allowed us to pursue an activity that our child feels passionate about."
'A safe structured place to play'
Oastler said the most important educational aspect of the program is its strong focus on inclusion.
"We know that Minecraft offers children on the autism spectrum a safe structured space to play, create and interact with others, free of some the constricts of normal social interactions," he said.
"So, providing an inclusive and safe space for them to learn about the game seemed like a no brainer to us."
Oastler said Aspect believes that everyone on the autism spectrum should have the same opportunities as everyone else.
"All it really takes is a little understanding of the different needs of people on the autism spectrum," he said.
"The classes being offered by Microsoft Store help to educate and immerse children on the autism spectrum into the Minecraft world, in an environment adapted to their needs and taught by trainers who understand them."
'Gaming breaks down barriers'
Jessica Erhart, community development specialist at the Flagship Microsoft Store in Sydney, said gaming has the power to break down barriers and "create unique, shared experiences between people from a diverse range of backgrounds."
"At Microsoft we truly believe in empowering every person on the planet to achieve more, and our Gaming for Everyone program is a huge part of that," Erhart told The Educator.
"Gaming has the power to break down barriers and create unique, shared experiences between people from a diverse range of backgrounds."
Erhart said the Minecraft workshops are amongst the most popular when it comes to Microsoft's in-store events and brings people together over a shared passion for the game.
"We're always looking for ways to make our sessions more inclusive and accessible, and by partnering with Aspect we are able to personalise the experience for those who otherwise would face challenges in taking part," she said.
Erhart pointed out that Minecraft is already used by schools around the country as part of the education curriculum, helping children develop inter-personal and logic-based skills.
"Developing these skills is an important part of a child's education, and the Minecraft workshops designed in partnership with Aspect aim to create a safe and comfortable environment in which children on the autism spectrum can collaborate and bond with their peers over a mutual love of Minecraft," she said.