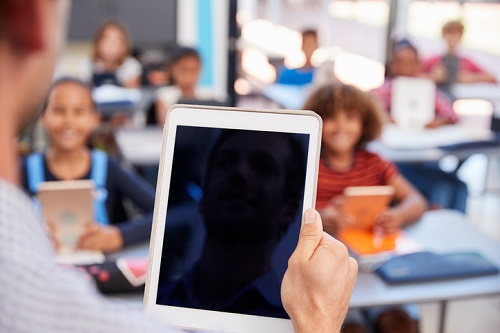 Recognising that the great challenges of the future will be solved by today's students, the NSW Department of Education has teamed up with Google for Education for three-day event that gave school children the chance to brainstorm ideas with a panel of leading futurists and thought leaders.
The Game Changer Challenge, which pits students against nation's leading thinkers on technology, involves 18 primary and secondary school teams – including a team from the Children's Hospital School at Randwick – all tasked with designing a solution to the question: 'How might we humanise technology?'
The Q&A panel included Google Australia managing director Melanie Silva, University of Technology Sydney (UTS) Professors Toby Walsh and Mary-Anne Williams, ethicist Dr Matt Beard, entrepreneur Jillian Kilby and Microsoft national technology officer Lee Hickin.
Below, The Educator speaks to Google's head of education Australia and New Zealand Suan Yeo about the Challenge and how Google is equipping leaders, teachers and students with the tools to make learning more engaging.
TE: How did this exciting collaboration with the NSW Department of Education originate?
SY: Google for Education provides G Suite for Education and Chromebooks to hundreds of public schools across New South Wales, and we've been working closely with the NSW Department of Education for several years now to provide technology to help transform learning and support educators. Google for Education is proud to continue our partnership with the NSW Department of Education through the Game Changer Challenge as we continue to expand what, where and how students learn so that everyone has access to the quality education they deserve.
TE: In your view, what are some of the most powerful benefits of the Game Changer Challenge to NSW schools?
SY: The Game Changer Challenge gives students ownership of their learning in a collaborative and diverse way that is authentic and experiential. The Challenge will help participating students develop key skills that are needed in the future workforce including problem solving, team work, communication skills, critical thinking and creativity.
TE: Looking into the year ahead, in what ways will Google help Australian K-12 school leaders build on their capacity to deliver improved teaching and learning outcomes?
SY: As part of the 2019 Game Changer Challenge, we will work with the NSW Department of Education to deliver an in-depth training program for the 18 teacher champions. This is part of our commitment towards building capacity within the public school system. We'll also continue to support Australian educators, helping them understand how to better use Google for Education technology to inspire more engaging learning through a series of programs. This includes Get Started with Google for Education workshops, which culminates in an online cohort that leads to certification. I also want to call out that we have been offering free online training via the Google for Education Teacher centre as well as putting on the Education on Tour roadshow program which will help schools better understand how Chromebooks and G Suite for Education can enhance teaching and learning while making IT simple for students and educators. Finally, we'll also be participating in a series of Grow with Google workshops across Australia, which is a free training series to help educators learn how to use digital tools in their classrooms.