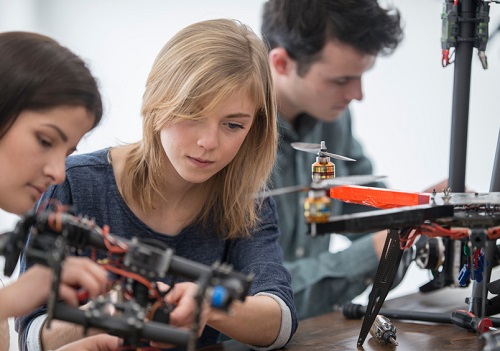 Snowy Mountains Grammar School's (SMGS)
School of Aviation
has announced the addition of a Remote Pilot Licence (RePL) course to its curriculum.
The course – which allows students to pilot quadcopter drones – joins a stellar line-up of options boasted by the school's award-winning
Academies of Excellence program
in Term 4 this year.
The School of Aviation, a winner of
The Educator Magazine 2017 Innovative Schools award
, has partnered with Australia's leading drone training school, '
FPV Australia
', to oversee the program, provide quality control and to carry out the assessment activities.
Over the last five years, the use of drone technology has grown exponentially, with the RePL quickly becoming an essential skill-set across many industries.
SMGS' Head of the School of Aviation, Phil Ryrie, told
The Educator
how this innovative addition to the school came about, and what kind of trajectory it is likely to take in the future.
"When the Aviation Program at SMGS was founded in 2007, we had the opportunity to utilise a flight simulator and a member of staff who had the experience and a passion for aviation," Ryrie said.
"At the time we had a program called ALPs [Applied Learning Programs] which was the perfect platform to expose our students to the simulator."
Ryrie said the ALPs program was designed for SMGS students to learn about the school's unique environment and incorporate its mountain location into their classrooms.
In time, and with an increase in interest, a partnership was formed with Brindabella Airlines, and the program evolved.
"It is now a program within our Academies of Excellence and has introduced many young people to Aviation, with some going on to obtain a commercial pilot's licence and to have a career as pilots," Ryrie explained.
"We have since moved our operations to Jindabyne as a result of the closure of the Brindabella Airlines flying school and, following the establishment of a new flying school, Alpine Aviation Australia, our students are now flying out of the local Jindabyne aerodrome."
Ryrie said that being a small independent school, free of many of the structures of larger schools, the opportunity arose to establish the School of Aviation.
"Our program is based on the premise of providing an opportunity for students, as opposed to just promoting aviation," he said.
"It is well documented that the rapid growth of the drone industry has the potential to supply a variety of employment opportunities in the future. It is an exciting and innovative industry that we want to be a part of as a pioneer school."
Ryrie said some of the benefits of the qualification include improved academic engagement and self-discipline for students and an introduction to the world of advanced technology which could foster interest in other areas of technology.
"It provides a pathway to future courses we wish to offer in drone photography and video making – additional knowledge and skills that have the potential to further employment prospects," he said.
"Drones will become an essential element in all successful businesses of the future and our students will be leading the way."
Related stories:
A skills shortage in all but name
Schools get a shot in the arm with new hi-tech syllabus