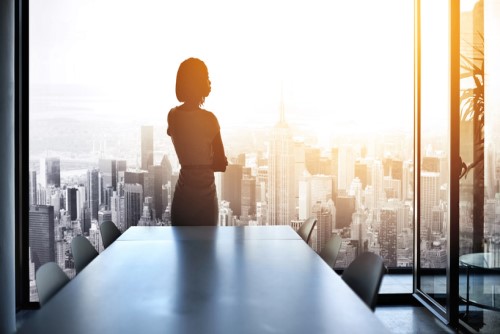 Studies show that just 16% of Australia's STEM graduates in Higher Education and VET are women, and 27% of the total STEM workforce is female.
Recognising this, governments, schools, universities and some key players within the private sector have been working to turn this around.
After all, the benefits of doing so are clear.
According to PricewaterhouseCoopers, upskilling just 1% of the Australian workforce into STEM roles would add $57bn to Australia's GDP over 20 years
To do their part, The Tech Girls Movement has been organising the annual Tech Girls are Superheroes competition since 2009 to encourage female uptake in technology-related fields. The aim of the initiative is to engage 10,000 girls directly in STEM Entrepreneurship by 2020.
'It's all about working with great people who inspire you'
Dr Jenine Beekhuyzen, an Original Tech Girl Superhero, who set up the Tech Girls Movement, said everyone she knew growing up worked for someone else, but when she could not find anyone to work for that inspired her, she decided to create her own journey.
"It's not been easy, but it has been worth it – to now work with the people I want, when I want, where I want," Dr Beekhuyzen told The Educator.
"It's all about working with great people who inspire you, and then passing those learnings to the next generation at a time of rapid digital change."
Drawing from research collaborations she has undertaken with Deakin University, QUT, the University of Muenster in Germany and the University of Liechtenstein, Dr Beekhuyzen pointed to some of the obstacles for young girls engaging with technology-related subjects at school.
"Lack of confidence and feeling of belonging are by far the biggest issues inhibiting higher levels of involvement in technology-related subjects among young girls," she said.
"Outdated stereotypes don't help inspire girls. They need positive typical and atypical role models to 'see it to be it' – it's why we team up with companies like Rubrik and tech leaders like Rebecca Fitzhugh."
Dr Beekhuyzen said policy and classroom instruction that educates and inspire students into STEM – and does not subconsciously bias against female students – is needed.
"The lack of engaging curriculum with real world applications represents a significant challenge," she said.
"It is not only the coding and project management skills but also the enterprise skills such as collaboration, the scheduling meetings with their team and their mentor and turning up on time."
Dr Beekhuyzen said sometimes it is as simple as everyone getting in the room together at the same time outside of school hours.
"Learning to listen to others, and that you are not good at everything, but everyone has something to contribute," she said.
'The future is bright for women in tech'
Rebecca Fitzhugh, Principal Technologist at Rubrik was recently at the University of Technology Sydney (UTS) to teach young women aged between 7-17 how they can create their very own chatbot – a piece of software that conducts a conversation via auditory or textual methods.
Fitzhugh began her career in the US Marine Corps, acting as a data systems analyst. During her five-year service, she specialised in cryptographic systems and eventually managed a Force-level data centre that provided services to the entire Pacific fleet.
"I entered the military right after high school and as a part of that process, I took the Armed Services Vocational Aptitude Battery (ASVAB). My resulting score placed me in a technical role in which I was a data systems analyst for a secure defence messaging system," Fitzhugh told The Educator.
"I'm perennially curious, so I was attracted to a tech career because I wanted to know how things worked. Technology is always evolving so there's always something new to learn."
Fitzhugh said an "appealing and powerful" part of the Tech Girls Are Superheroes competition is its holistic approach.
"It goes beyond creating an app, it also teaches the students how to pitch their app and sees them writing a business plan. This shows the participants that there are opportunities in tech beyond engineering," she explained.
"I was superbly impressed by the girls in the competition. The girls were very passionate about all angles of their apps, from the engineering perspective to how to pitch and market their creations."
Fitzhugh sees a very bright future for young women choosing to pursue technical subjects.
"Technology is pervasive across all facets of society; no matter what path today's student choose, technology will be a part of that," she said.
"No matter what your passion is, there's likely a technology component to that, but we don't always make that realization."