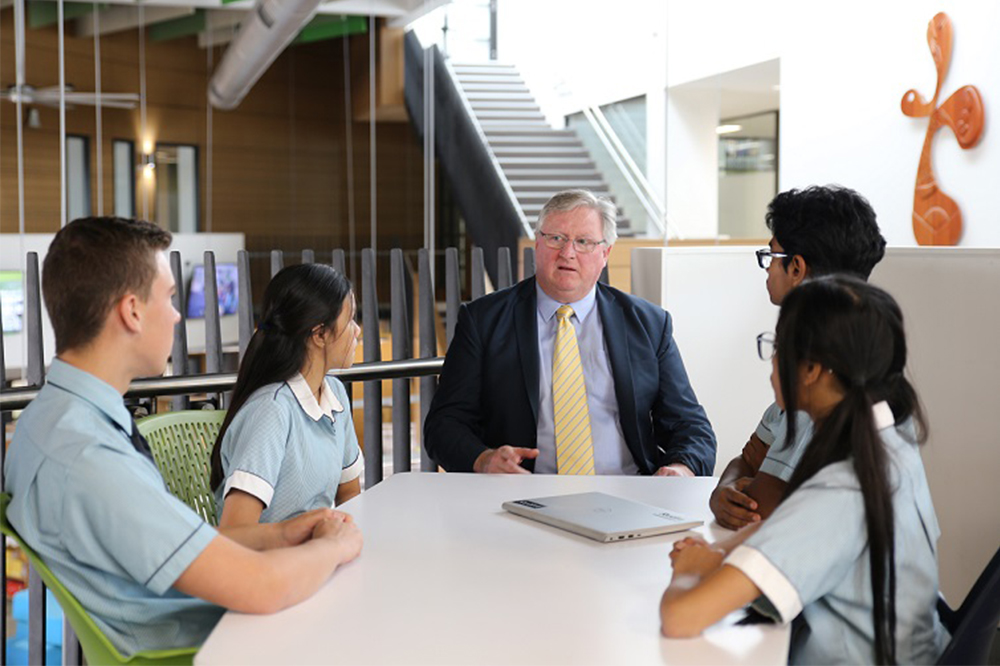 At St Luke's Catholic College in Marsden Park, NSW, secondary students are being given the opportunity to gain both their HSC and a Diploma under a transformative new strategic plan.
In recent years, there has been a push by schools, universities, governments and businesses to connect young people with new career pathways, enabling them to get a head-start in a competitive, but uncertain, jobs market.
The new initiative – just announced by principal Greg Miller to all schools in the Catholic Education Diocese of Parramatta – provides a study option which sees students concurrently complete the HSC, whilst also successfully obtaining a Diploma without jeopardising their HSC, or even attaining an ATAR.
Below, The Educator speaks to Greg Miller, St Luke's Catholic College principal, about the new model and its potential to shake up Australian education.
TE: What was the College's thinking behind its new senior secondary strategic plan and who were its instigators?
GM: Assistant Principal Kelly Bauer and I have worked closely with Rob Regan, Managing Director, Australia at Kaplan International and Kaplan Academic Dean James Adonopoulos for nearly three years on this project. At first, we came together to imagine a new way of more seamlessly connecting senior secondary school with the tertiary sector. Knowing that Kaplan was a Higher Education provider, and with the innovative mindset of Rob and the Kaplan Team, it was a good fit for the St Luke's commitment of designing and establishing a new normal for post school options. And whilst diploma options in schools is not completely new, the way we are going about it with Kaplan definitely is new! Kelly and James have worked hard to align required standards, assessment and expectations of Higher School Certificate subjects with the Higher Education Standards Framework, in particular the assessments associated with the Kaplan Business School Diploma Program.
TE: Can you talk us through the diploma that the College will be offering students? (i.e., is this effectively the same kind of diploma a student might gain through going to TAFE or university, and which an employer will be looking for?)
GM: Diploma Programs in universities are promoted as an option which successfully prepares students to progress towards a bachelor degree by studying the same units as first year undergraduates but with increased levels of support. The current articulation agreement between Catholic Education Diocese of Parramatta (CEDP) and Kaplan aligns learning of HSC subjects with a Diploma of Commerce. For example, studying (early commencement) Work Studies in year 10, Mathematics in year 11 and 12, and Information Process and Technology (IPT) in years 11 and 12 will see Recognition of Prior Learning (RPL) towards the Kaplan Business School, Diploma of Commerce of up to 50%, and this will be at no cost! What we have done at St Luke's is ensure the rigour, standards and expectations of the HSC are maintained whilst also ensuring assessments align with higher education requirements of the Kaplan Business School's Diploma of Commerce. All the time, students will be working their way towards the attainment of their HSC and also access an ATAR. Further to this, and through a clever use of time, students will then have the opportunity to successfully complete the other half of their diploma through direct delivery of courses by Kaplan teachers located at St Luke's.
TE: Some principals have referred to this model as 'revolutionary', saying St Luke's has 'cracked the code'. How big a deal is this for Australian education?
GM: To our knowledge, the Diploma and HSC has not been an option before. It now is! I suppose, we have 'cracked the code' by providing a study option which sees a student concurrently complete the HSC, whilst also successfully obtaining a Diploma without jeopardising their HSC or even attaining an ATAR. Essentially, we are providing an option of dual credentialing for students. Furthermore, we have structured this pathway in such a way that it comes at a significantly reduced cost in comparison to other Diploma options, and also enables an accelerated start to university life with only two of three years remaining for a degree qualification in the same faculty. The other benefit is that a Diploma is highly regarded by employers, in some instances more so than a HSC. Therefore, and for those students wishing to enter the world of work, it is another string to their bow. A student may even take a 'gap year' before returning to further study at university.
TE: What are the next steps? (i.e., when will this model be up and running in earnest, and in what ways might it expand or change over time?)
GM: Well, we have already shared this initiative with other CEDP schools and whilst there is great excitement and there is also a little trepidation with some thinking that this might just be too good to be true. However, we have 'tested' this with CEDP Curriculum Compliance and are aware that Kaplan have applied their due diligence and governance processes so that we can proceed. Those boxes are ticked! More broadly, some private schools in New South Wales have expressed their interest to learn more from us. Excitedly, our next step with Kaplan is to explore Diploma of Commerce 'specialisations'. This means more HSC subjects will be included in articulation towards a Diploma and, more importantly, our students' employability will strengthen as a result of completing subjects aligned more closely to their preferred industry. We expect to have a further announcement in this regard by mid-June 2020. Once we have exhausted all credible options that sit within Kaplan's expertise and scope, we will look further afield for other adventurous and bold Higher Education providers to partner with us to provide Diploma options in areas such as Law, Engineering, Artificial Intelligence and Augmented & Virtual Realities.
TE: What do you consider to be the most important unfinished work in Australian education, and what do you consider to be the right way forward in seeing it come to fruition?
GM: Teaching and Assessing the capabilities required for a changing world is the most important unfinished work in Australian education. However, this requires a very different approach to learning and assessment as prescribed through the current standardised approach. The best way forward is to move from old metrics of success such as marks and grades which manifest itself to HSC Bands and ATAR, and move towards New Metrics of Success which assess one's ability to collaboratively ideate, create and problem solve as well as manage themselves and relate with others. One of the best ways forward for us at St Luke's is to be involved in the New Metrics for Success project led by the University of Melbourne. New Metrics for Success is a collaborative research venture between The University of Melbourne and 37 forward-thinking schools from all over Australia and across sectors. This three-year project which commenced at the beginning of this year sees academic experts at the Assessment Research Centre and international trailblazers to support the creation and validation of new metrics. The vision is that we connect with national and international networks of like-minded leaders to generate new and validated assessment tools which may then influence the development of new policy. It is exciting work!
The Educator also spoke to Rob Regan, Managing Director, Australia at Kaplan International, which developed the Diploma. Below, Regan explains how the collaboration between Kaplan and St Luke's originated and the potential for this model to be replicated on a grander scale.
How did Kaplan's collaboration with St Luke's Catholic College come about?
RR: Kaplan's relationship with St Luke's began several years ago after seeing Greg Miller's TEDx talk in which he articulates his school's student-centred practices which inspired several of our senior leaders to visit his college. We quickly realised we had a common view - one shared by current and former ministers of education and department secretaries - that the ATAR is unfair, imposes excessive stress on students, and does not meet the expectations of students, families or employers. It does not even meet the expectations of the university sector since a majority of students are already enrolled via non-ATAR avenues. Our ongoing conversations evolved over time. Initially, we engaged in a light-touch collaboration whereby we developed complimentary workshops for hundreds of our own students which included a half-day session with the same life coach that St Luke's engages for their students on a weekly basis. Our successful working relationship promptly expanded when we started to brainstorm how the well-known and empirically proven problems associated with the ATAR could be overcome. We were fortunate in this respect that St Luke's, as a relatively new school that had not yet taught senior secondary students, was able to more-easily incorporate our curriculum and assessments within numerous HSC subjects thereby making it possible for students to graduate in Year 12 with at least two completed Diploma subjects.
What level of interest has there been from schools in terms of other principals wanting to adopt this model?
RR: This is a new project for us and as such we have not been promoting this actively to other principals. We've simply been content that the leaders at St Luke's, with whom we share an innovative and forward-thinking mindset, have been enthusiastic about piloting this program at their school. Of course, we've since been pleased that leaders at CEDP have likewise embraced this because for some students it serves as a more effective and equitable alternative to the traditional secondary-to-tertiary pathway. In saying that, we are in very early discussions with a small group of other principals interested in replicating this program and we would always welcome expanding this further to include other principals with similar ambitions for their students. We have modest expectations for the short term because we know this is not for everyone. The starting point, for example, is a preparedness to teach and assess a number of HSC subjects in line with Level 5 of the Australian Qualifications Framework. The end point, however, will be worth it as students become more employable and as the anguish they experience in their final years of secondary school is diminished.