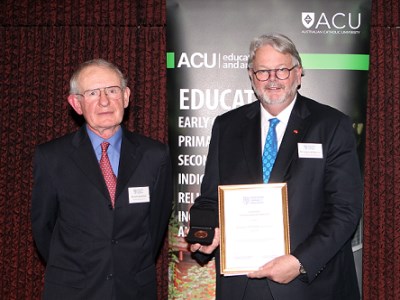 Pioneering Sydney educator, Greg Whitby, has today been awarded the highest teaching accolade in NSW and named the state's best educator.

Whitby, executive director of Catholic Education in the Diocese of Parramatta, was awarded the Australian College of Educators (NSW branch) Sir Harold Wyndham Medal, which recognises outstanding contributions to NSW education.

He is credited for having improved student outcomes across both public and private education in NSW for more than 40 years, reshaping the educational narrative along the way.

One example of this has been Whitby's instrumental support of a revolutionary new model that recognises the 24/7 nature of modern schooling as more working parents move into the city suburbs.

"Our simple focus is on learning. Everybody is a learner, and everybody is connected. And that means students, teachers, parents, school leaders, regulators, service providers – in fact, anyone involved in the enterprise of education," Whitby told The Educator.

"Learning is about changing – you can't learn without changing, and you learn the work by doing the work. If we're all learners, we're all changing. If you accept this you simply can't do the same thing year in and year out and be doing a good job."


'The current model has had its day'

In February, the Diocese opened St Luke's Catholic Learning Community, located in Marsden Park, which became the first western Sydney school to operate from 6am through to 6pm. The school is just one of 79 others undergoing a transformation.

"What is ground-breaking in our 79 schools in western Sydney is that we are transforming the learning model. The current model we have in NSW was designed in the 1950s and 1960s and has had its day," he said.

"The current model is outdated and is beyond fixing. It's trying to fix up a steam engine to fly to the Moon. We need a whole new model, a whole new transformation of learning."

Whitby said this involves the process of designing new learning spaces, adopting best learning practices and putting more resources for collaboration among teachers.

Despite the last 40 years of being told that competition is best, Whitby said human progress has always occurred when people and societies worked together in constructive collaboration.

"Six years ago, Parramatta implemented a student information system that allowed teachers and schools to assemble comprehensive student data in one place so that the collaboration between teachers, students and parents could happen with reliability and ease," he said.

"The days of a teacher being on his/her own are over – in the digital age, educators have never had more resources and capabilities at their disposal. These can enable great learning and the key leadership skill is knowing how to harness them for success."


Principals must 'design think' their way to creating different schools

Whitby called for a greater focus on the needs of every child and for the designing of systems that develop students developmentally, socially and academically.

"It's a tough leadership challenge when all that most school leaders and teachers have known is age-based grouping of students," he said.

"While technology is an enabler, teachers and school leaders will have to 'design think' their way to creating schools and learning experiences very different from what they have known."

One of the most significant issues Whitby sees in Australian education is the need to create equity in schools and communities.

"We must do more than just talk about the growing equity gap in education – we must address it," he said.

"The current approach whereby each student is entitled to the same level of resourcing does not address the growing gap between the haves and have-nots between schools."

Whitby said the principles underpinning the Gonski model must be acknowledged but must also be implemented if schools are to lift each student's achievements.

"Those with the greatest need, have to get the most funding, regardless of where they go to school. We need to give school leavers the best start in life, no matter where a student lives or their social circumstances," he said.