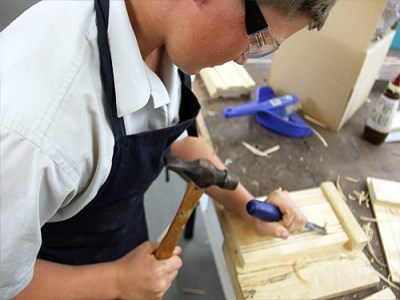 A new report reveals that, on average, TAFE graduates not only have higher starting wages than university graduates, but also find work more quickly.
The report, titled: 'Perceptions Are Not Reality: myths, realities & the critical role of vocational education & training in Australia', was released by Skilling Australia Foundation (SAF) today.
It found that in comparison with university undergraduate programs, vocational education usually provides students with a faster, more cost-effective pathway to complete a qualification and enter the workforce
Nick Wyman, SAF CEO, told The Educator that he hopes that principals and career advisers read the report and reconsider the type of advice they are giving to students.
"We hope that principals make a greater effort to understand the employment prospects which can be accessed through vocational pathways and VET study," he said.
Wyman suggested that when advising kids about post-school study options, schools pay more attention to employment market information and future industry growth forecasts.
"The reality is, not all of us are academically inclined, but this emphasis on ATAR's and the 'university or bust' mentality is causing a lot of undue stress on young people," he explained.
"Four in five parents want their kids to go university, but I can guarantee that four in five parents don't know that whilst university enrolment numbers and HECS costs are at record highs, degree graduate employability is at near three decade lows."
Wyman said most children don't aspire to have "a wall full of degrees".
"What they want is to find a place in the world," he said.
SAF's study shows that whilst university ticks a number of aspirational boxes, vocational education usually provides students with a faster, more cost-effective pathway to get a qualification and a job.
"As a parent, you take pride in your child's educational achievements, but what keeps you awake at night is worrying about how they will get and keep a job, and develop as adults from school into employment," Wyman said.
"If getting and keeping a job is your concern, there are jobs for the taking in VET. Not only in growing fields, but in traditional trades roles which will be there in 50 years."
'A springboard to success'
Wyman said he hopes the report will boost awareness of VET student outcomes and make educators and parents look at the data and consider VET as post-school education pathway.
"I think the Government is aware that more needs to be done to reassert the value of vocational education," Wyman said.
"Education Minster Birmingham knows the sector well, and business groups are crying out for more skilled workers and skills training on a regular basis."
Wyman said that while industry demand exists, student supply is low.
"Too many kids are dissuaded from considering VET, even while there are so many traditional trade professions experiencing a skills shortage," he said.
Wyman said that vocational education is not a "straight-jacket" but rather a "springboard" to greater educational and career advancement.
"For example, I started out as an apprentice chef, and have gone onto study at Harvard," he said.
"Unfortunately, there is a social stigma around vocation education, and we need to debunk ingrained perceptions, some which have built up over a number of years."
In order to combat this, Wyman says Australia needs to boost the profile of VET and TAFE as a sector.
"We believe to address number of our national challenges from youth disengagement to our endemic skills shortage, believe Australia needs a robust, valued and dynamic vocational education sector," he said.