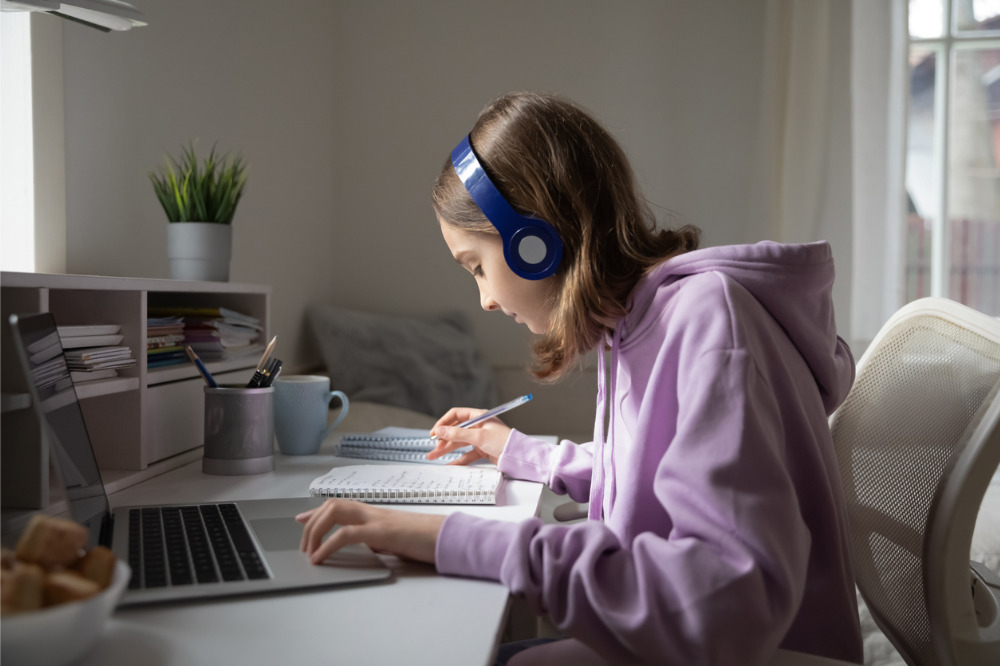 In recent years, the rise of online education has sparked a country-wide re-think of how and where our young people are educated.
The unprecedented rise of online high schools in Australia – especially in the context of the ongoing resourcing, staffing and learning issues in traditional bricks-and-mortal schools – comes at a time when parents and high schools students are assessing the year that's been and considering their options for next year.
The NSW Upper House's Education Committee report into teacher shortages concluded that poor academic performance by students was the result of teachers who had "barely passed their high school certificates".
The report also found two thirds of teacher were feeling burnt out with many considering walking away from the profession altogether, and more than 80% reported they didn't have enough time to do the job well.
In contrast, home education/online education is the fastest-growing education cohort in the world. In Australia, there are now around 26,000 young people learning from home with that number accelerating every year.
Read more: Key takeaways from the world's largest online education conference
Despite being established less than three years ago, Crimson Global Education (CGA) now has more than 1,000 students worldwide with Australia its fastest growing market.
The students themselves come from an extremely wide background including those who are geographically isolated; with extracurricular commitments such as elite sports training; with special educations such as autism or ADHD; students who've been bullied; and gifted students who want to accelerate their learning.
At age 20, Jamie Beaton, applied to 25 of the world's top universities and gained admission to them all. He chose Harvard, where in 2016 he completed a double degree two years ahead of schedule with High Honours. The following year, and with good reason, Beaton was named one of Forbes 30 Under 30.
Determined not to rest of his laurels, in 2019, Beaton completed an MBA at Stanford as one of youngest ever to get top academic Arjay Millar award, as well as a Master of Arts in Education.
This year, he completed his PhD at Oxford, a Masters in Global Affairs at Tsinghua University on Schwarzman Scholarship, published his first book and is in his final year of law degree (JD) from Yale Law School.
Below, Beaton shares 9 predictions for online education in Australia in 2023:
#1: The growth of online home-schooling: There will be growing interest in accessing global education and getting international qualifications like A Levels instead of local curriculum like HSC and VCE which are not as globally recognized.
#2: Chronic teacher shortages reducing the ability for physical schools that can only recruit locally to source and retain top talent. Growing frustration from private school parents over the mixture of teachers in their schools showing a symptom of the problem.
#3: Growing interest in studying abroad - Australia has good universities but more Aussies are heading to the US and UK to pursue undergraduate degrees abroad. It is also quite common for Aussies to consider postgrad overseas, especially those who went to management consulting firms like McKinsey, Bain, BCG or marquees banks. Undergrad is the highest leverage, and we see kids from James Ruse to Pymble to Cranbrook all aspiring to US/UK and abroad
#4: Increased use of asynchronous digital resources and study guides to complement in school learning - one example is the viral IB tool Revision Village which is very popular amongst Australian schools
#5: Increased focus on extra-curriculars as universities like ANU use holistic admissions processes based on the US and global applicants want to develop these, rather than a super narrow focus on ATAR only
#6: Share of students using tutoring is growing in Australia
#7: Competition for talent is leading to very high headmaster salaries in Australia relative to New Zealand
#8: Increased adoption of the American APs as a way for talented high schoolers to pursue university level credit while in high school in the early years
#9: Counsellors seeking to upskill on a broader range of university pathways for students and increasing focus on next-gen careers like AI, data-science, computer science, machine learning
The original version of this article appeared as a media release from Crimson Education.