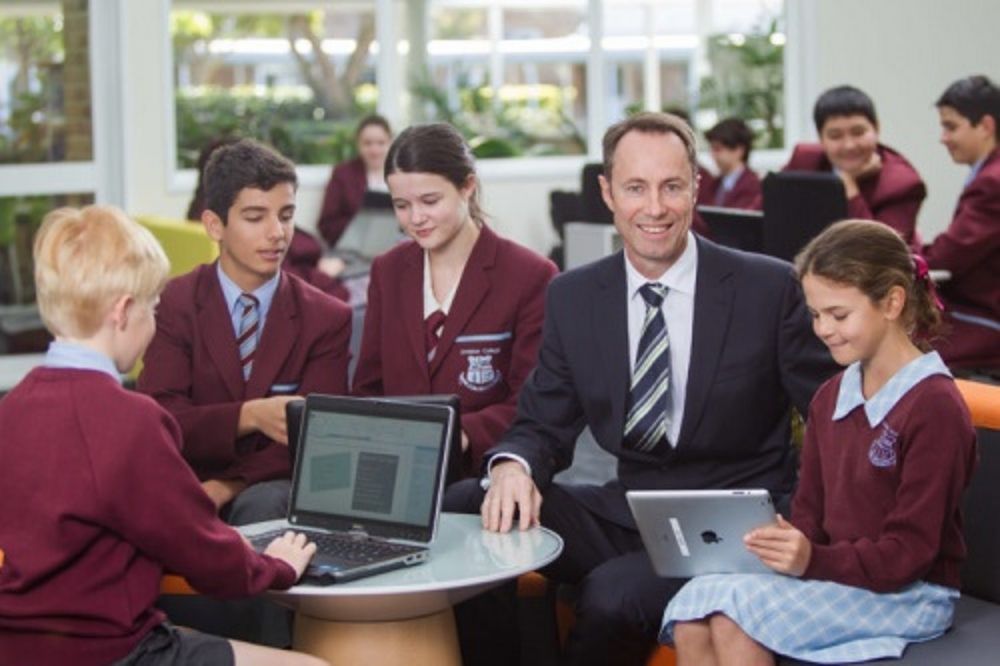 In October, The Educator revealed Australia's 5-Star Innovative Schools of 2021, recognising the education trailblazers who are superchaging teaching and learning in classrooms across the nation.
One of the schools recognised was Ormiston College, located in Queensland. The College, a recognised leader in tech-enabled learning, has a unique teaching and learning framework that incorporates a focus on 21st century skills and a long-term commitment to meaningful use of technology.
The positive impacts of technology on teaching and learning were shown in 2020 when the college transitioned to a successful remote learning model. In partnership with Griffith University's School of Education, Ormiston College created an exciting breakthrough in online teaching and learning. The project supported the learning of school leaders and teachers, optimising the development of a rigorous validated model for remote schooling.
Ormiston College was named top school for Best Use of Technology in 2018; won the Most Innovative Curriculum Design award in 2019; and received Excellence Awards in eight categories in 2020. The College's Centre for Learning and Innovation also won the 2021 Australian Library and Information Association's Library Design Award – School Libraries.
"Innovation is certainly a well-used term in today's education circles and it is increasingly an expected facet of contemporary schooling," The College's principal, Brett Webster, told The Educator.
"Done well, a school's innovative approaches represent much more than on-trend learning activity. Rather, considered innovation can bring about genuine learning improvements and shape the life chances of the students involved."
However, Webster says that as schools investigate tech-enabled options for learning, they should be very discerning and intentional about what these new approaches are intended to achieve.
"Innovation at Ormiston College is a continual process. It sees our team place our students at the centre of our thinking as we actively investigate emerging technologies and consider new approaches to improving specific areas of learning," he said.
"We are mindful of improving a student's experience of learning as well as measurably improving the academic outcomes that result."
Webster said the College is also "ever-conscious" of what it considers is the biggest educational issue of our time – cultivating new skillsets and new ways of thinking so that students are well positioned to thrive for years to come, despite significant shifts to the employment landscape and the way we live.
"A successful education engages students in learning by collaborating, creating and making meaningful connections to the real world. It fosters rich discussion, helps students visualise abstract concepts, encourages them to identify real-world challenges, and supports them in creating solutions," Webster said.
"For me, it is imperative that every student benefits from our best innovative approaches. There must be a consistency of experience across our K-12 campus, not an ad hoc innovative schooling experience that relies on a student being allocated to a particular teacher or program."
For this reason, says Webster, the College drives a culture of innovation that is campus-wide, ensuring that all teaching teams, in all subjects, across all year levels are challenged and supported to develop better approaches to teaching and learning.
"Invariably our wonderful teaching teams succeed, and our best innovations are scaled across the subject, the cohort or the College."
Webster said the College's partnership with Griffith University's School of Education has been improving student and staff outcomes campus wide.
"The positive impacts of technology on teaching and learning have been many. These were particularly pronounced over the past couple of years in our Blended Learning approach during periods of learning from home," Webster explained.
"Confident in the knowledge that we had the technological ability to deliver online learning, the key question became 'what does best practice in curriculum design and pedagogy look like when students are learning from home?'"
Webster said the College's long-term commitment to the meaningful use of technology meant that teachers and students possessed high level skills, and the infrastructure, platforms and software were in place to transition to a remote learning model.
"We resisted the decision to just switch on the laptop camera and deliver our usual timetable online. Instead, we embarked on an exclusive partnership with Griffith University's School of Education to create a project that would support the professional learning of our school leaders and teachers, and develop a rigorous, research validated model for both remote schooling and blended learning in a campus setting," he said.
"The partnership with Griffith University has continued well beyond the initial urgency brought about during the peak of the pandemic."
Webster said that as many individual teachers and teams of teachers develop new units of work, with regular support and guidance from Griffith University's blended learning experts, the College is starting to see ongoing benefits.
"Students have increasing control over the path and pace at which they engage with content. For example, a student in a blended learning course who masters a concept early can move on without having to wait, and conversely, a student who needs more time can continue until fully grasping the subject," he said.
Blended learning combines the best aspects of face-to-face teaching and online instruction that enables students to learn and consolidate using spaced practice. Spacing is a powerful evidence-based strategy that boosts learning by spreading lessons and retrieval opportunities."
Webster said there has also been a reduction in failure rates, improved learning, and boosted student engagement.
"It is proving to be a scalable learning model that works for diverse groups of students."