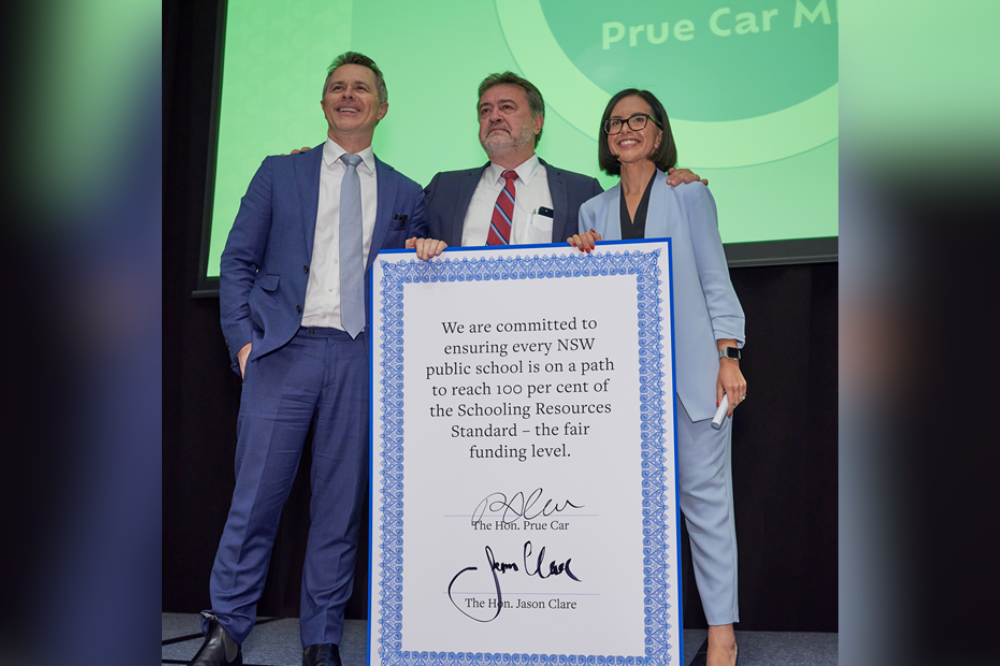 The Federal and NSW Governments have formally committed to funding full Schooling Resource Standard (SRS) of all NSW public schools.
The announcement, made by Federal Education Minister Jason Clare and NSW Education Minister today at the NSW Teachers Federation conference today, formalises an election pledge to ensure all public schools are funded fairly.
The Schooling Resource Standard (SRS) is an estimate of how much total public funding a school needs to meet its students' educational needs.
Under Labor's $400m Education Future Fund, NSW will reach 75% of its SRS by 2025 – two years earlier than the target set by the former state government. While this takes NSW school funding to 95% of the SRS, Labor has pledged to go further and ensure all NSW public schools reach 100% of the established funding benchmark.
"Today we witnessed a most significant moment in the history of schools funding in Australia," NSW Teachers Federation president, Angelo Gavrielatos, told The Educator.
"With the passionate commitment of both the state and federal Ministers for Education we are on the cusp of realising the funding of public schools at 100% of the SRS."
'NSW have now set the benchmark for every state and territory'
The Australian Government Primary Principals Association (AGPPA) said it "welcomes and applauds" the decision of the NSW government to commit to 100% of the SRS by 2025.
"This will make an enormous difference to education and life outcomes for students of NSW students and will provide their teachers and staff with resources to ensure they are able to deliver a rich curriculum for students," AGPPA president, Pat Murphy told The Educator.
"NSW have now set the benchmark for every other state and territory in Australia, and we would hope for the sake of every Australian student that other states and territories would match the commitment that the NSW government made today."
Murphy said that in teacher terms, NSW is "setting the gold standard" for public education to ensure equity of funding for every student in the state.
"It's terrific to see NSW make this commitment to education. It is hopeful that next Tuesday's federal budget helps to deliver equity and excellence to every Australia student and that education funding is prominent in budget commitments."
Matthew Johnson, president of the Australian Special Education Principals Association (ASEPA) and the NSW Special Education Principals and Leaders Association (SEPLA), also welcomed the announcement.
"The SRS is essential to meet the needs of students in public education and especially to ensure equity for students with disability and complex needs," Johnson told The Educator.
"The tone of the education debate has seen a seismic shift in NSW and the announcement by the NSW Government is to be applauded."
Johnson said this is particularly timely, as the number of students with a disability or who require support is increasing.
"There will always be the need for targeted support and funding on top of the standard, but this is a heartening development that paves the way for future conversations across the states and territories and nationally regarding equity."