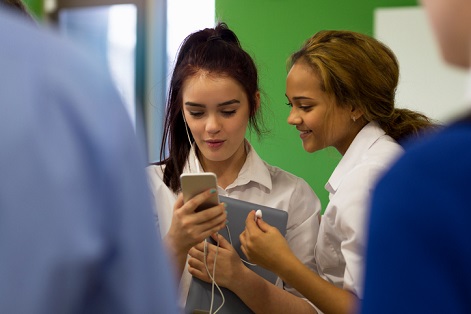 In August last year, Melbourne's McKinnon Secondary College held several student forums at which complaints were raised about the distraction that smartphones were having in the classroom.
Even if students weren't on their phone, they were receiving a huge number of notifications that meant that they weren't able to focus on the class activities.
So at the start of Term 1, students were asked to lock away their smartphones until the end of the school day – and so far, the plan seems to be working.
The school's principal, Pitsa Binnion, said during class, students are more engaged in their learning and are quicker to become focused in lass and apply themselves to class activities.
"As a result of removing the constant distraction, productivity has increased. There also seems to be a reduction in general anxiety," Binnion told The Educator.
"Outside of the classroom, students are interacting and socialising with each other, helping strengthen their connection to the McKinnon community."
So is banning smartphones from the classroom a strategy that other school leaders should consider doing?
Binnion said that each school has different circumstances that need to be considered so a one rule for all may not be appropriate.
"At McKinnon, we are fortunate to have a highly effective Chromebook program so that students are still able to access digital resources and use technology in an effective way to engage with their learning," Binnion said.
Binnion said that it is not necessarily the phone that is the issue, but how the phone is used and how it affects the functioning of the brain.
"Students and the school community need to be better informed of the impact of phone usage on the effectiveness of teaching and learning," she said.
At the NSW Education Symposium in 2016, world-renowned Finnish education expert, Pasi Sahlberg, suggested the adoption of digital devices in schools may be impacting negatively on learning.

"We are not paying attention to the very rapidly increased use of screen technology. The first three PISAs were in 2000, 2003 and 2006, this thing didn't exist. There were no iPads or smartphones," he said.

Sahlberg went on to predict a tobacco and big sugar-style marketing war between edutech-company-backed research and independent research over the next five years – the focus being the academic impact of digital devices in classrooms.

He added that reading performance has been drastically declining in Finland during the digital age and encouraged educators to consider patterns in learning outcomes since its onset.

"Our pedagogy and teaching has not changed, the curriculum has not changed. So how else can you explain this dramatic change?" he asked.

Related stories:
Govt calls for smartphone ban in schools
Is social media a liability for schools?
Smartphones, sexting and sexual harassment