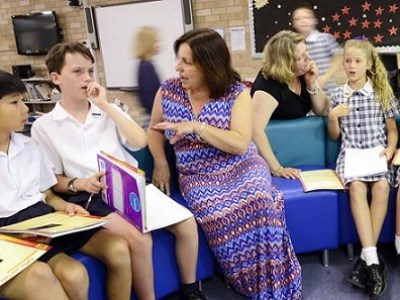 The challenges posed by the world's surging population inspired this principal's determination to make 21
st
century learning work.
When Paul Taylor became principal at Turramurra North Public School 12 months ago, he set out to revolutionise the school's classrooms to adapt to 21
st
century realities.
"We believe in 21
st
century learning here at Turramurra North, and we believe in that for one core reason: our world's population is increasing at an incredible rate," Taylor told
The Educator
.
"It took from the beginning of time until the year 1804 for the world's population to reach one billion. The last billon came up in the last 12 years."
Taylor said he believes that adjusting classrooms to become larger, as well as more dynamic and collaborative, will help streamline both learning and school resources.
"We've got population growth out of control, and we've got declining resources. So how are our kids going to get through this? Well the only way through this is to get creative, to collaborate, to critically think and then to communicate," Taylor said.
"These are the four C's of 21
st
century learning and this is why it is mandated in our national curriculum.
"Eventually, what we're doing is moving from teacher-centred classrooms to student-centred classrooms. We're not planning our teaching, but designing our learning."
In the 12 months that Taylor has been principal, he and his team have provided the school with Wi-Fi, transformed the library into a modern learning zone and combined the Year 5 & 6 students to create a 'super class' of 76 students, led by three teachers.
"There are now different zones within that space - an instruction zone - a creative zone - an independent zone - a collaborative zone and a withdrawal zone where kids can go and work in groups," Taylor explained.
"Each child has their own device, such as a tablet or an iPad, and those apps are only productivity-based apps. We're not interested in skill-and-drill low-level rubbish.
"What we want to do is supercharge our students' thinking, not dumb it down."
Taylor said that learning should be about "deep, rich, meaningful learning experiences" that teachers are able to feed into the curriculum rather than the other way around.
"We call it the collision of pedagogy and learning space. It's only when you really understand the pedagogy and the thinking behind it that you start to demand the change in learning space," Taylor said.
"In the end, the learning space itself becomes one of your teaching tools."