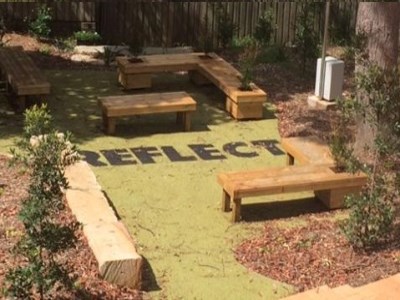 Turramurra High School's project – named "Inside Out" – involved the building of a sandstone amphitheatre, an outdoor kitchen, seating areas for groups, an outdoor chess board and a large vegetable garden.
The project has involved the whole school and wider community in its planning, fundraising, design and construction.
The area can accommodate up to 90 students at one time, providing ample space and a relaxing environment for students to collaborate and learn together.
Year 10 student, Charles Pollaers, told
The Daily Telegraph
that Inside Out made an exercise on utopian and dystopian society more enjoyable for the year's four English classes.
"We got into different groups of society – police, media, government, workers, artists and activists – and had to claim areas that suited our group's purpose and work together to create a peaceful society," Pollaers said.
"I found that in a normal classroom we couldn't do it, because there aren't enough separate environments to suit different people's needs, whereas there's so much variation and a place for everyone."
Nearby Turramurra North Public School also set out to bring its grounds in line with 21
st
century learning, creating new collaborative learning spaces. The school's principal, Paul Taylor, led the charge.
In the space of 12 months, Taylor and his team provided the school with Wi-Fi,
transformed
the library into a modern learning zone and combined the Year 5 & 6 students to create a 'super class' of 76 students, led by three teachers.
"There are now different zones within that space: an instruction zone; a creative zone; an independent zone: a collaborative zone; and a withdrawal zone where kids can go and work in groups," Taylor told
The Educator
.
Reports
of increasing class sizes and a lack of resources to cope with them have prompted schools to rethink how their learning environments are structured, as well as explore new ways to finance such projects.
Turramurra High School student, Midori Sugiyama, explained how her school's fundraising helped generate community interest in the project.
"The fundraising part of it got everyone involved," Sugiyama said.
"The art department started sculptures and want to paint murals all over the wall to add to the ­environment."
Is your school doing anything creative to improve student learning spaces?