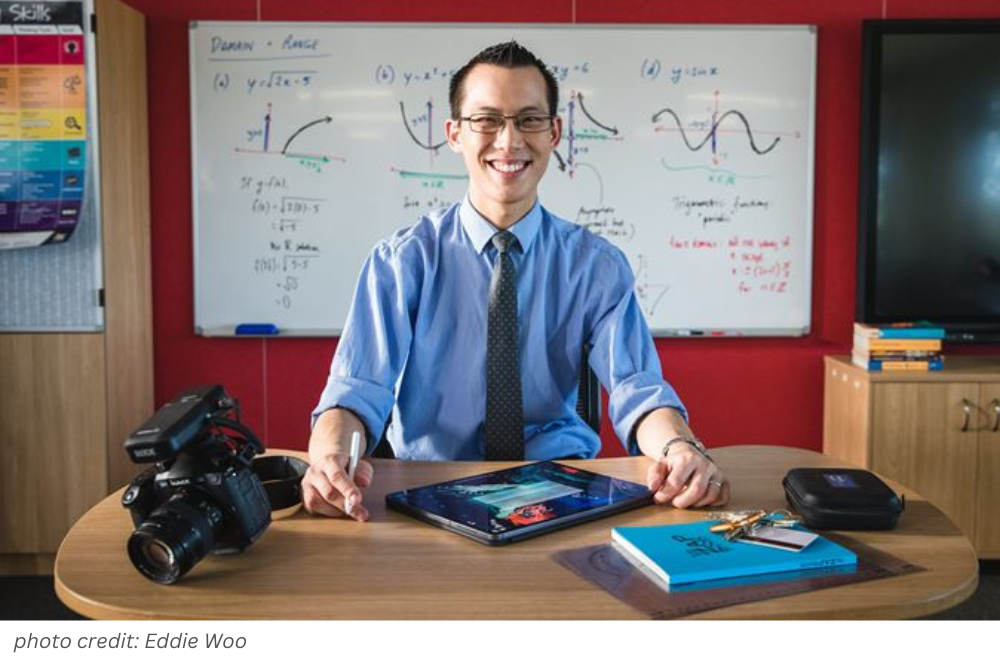 Eddie Woo, a high-school teacher with a global profile and over one million subscribers to his successful maths-based YouTube channel, has joined the Sydney School of Education and Social Work as its new Professor of Practice.
As Professor of Practice, Eddie will bring his signature innovative teaching methods to the lecture theatre, where he will teach and mentor teaching students. He will also conduct educational research, something he is "really keen to do".
"Eddie Woo is recognised globally for his outstanding contributions to secondary mathematics education," Professor Debra Hayes, Dean of the University of Sydney School of Education and Social Work, said.
"His appointment is a coming home of sorts. As a graduate of our initial teacher education programs, he is a role model to our students of the value of teaching as a profession, and the potential impact they can have as teachers."
Since graduating from the University in 2008 with a Bachelor of Education (Honours) in Secondary Mathematics and Information Technology, Professor Woo has had a dynamic and varied career. His passion for mathematics – and enthusiasm for teaching it – has seen him continue to teach students at Cherrybrook Technology High School, alongside roles as a public speaker, author and mathematics curriculum leader at the NSW Department of Education.
Teaching teachers how to teach
Well-known for his engaging and dynamic mathematics video lessons, Professor Woo is an Australian maths superstar. Over the years, his profile has grown alongside national discussions about how best to improve the quality of mathematics education and raise Australian students' results in the subject.
In 2019, an international education test run by the Organisation for Economic Co-operation and Development found Australian students' performance in maths had fallen to OECD average, representing a noticeable decline in national mathematical literacy.
For Professor Woo, good teacher education is a vital part of correcting this decline, and a major part of his decision to take on this new role. "I feel I have a moral responsibility to support the next generation of educators," he said.
"Teachers are the single most important factor in a student's learning experience and in their educational outcomes."
Woo said while there are numerous other factors that contribute to student success and student outcomes, many cannot be changed.
"You can't change a student's postcode or their parents or their genetic makeup. But what you can do is ensure they get a world-class, state-of-the-art education, delivered by passionate teachers who are well-informed by evidence, who have been able to develop their practice in collaborative ways, and who are equipped to teach with innovative and up-to-date strategies."
Practising for success
Professor Woo joined the Sydney School of Education and Social Work in March, where he will spend time working with both staff and students. He will work at the University on a part-time basis so he can continue teaching in classrooms.
"I still work with [high school] students all the time and it's a real joy – it energises me," Professor Woo said.
"Being able to continue my other work means that what I'm doing whenever I do support teaching students and run professional learning is coming from an authenticity of practice that you can't imitate."
Woo added that there is "no substitute for immediate contact with today's schools."
"I think it's fantastic that the University wants to ensure its students have access to current industrial experience and expertise," he said.
"It makes so much sense to me, that if we want to train people up to enter a profession, you want people who are still actively involved in leading that profession to be part of their initial teacher-learning experience. Being able to wear both my hats – working within schools and working beyond school – at the same time is incredibly exciting."
Professor Debra Hayes said she was "delighted" to have Eddie join the School.
"A Professor of Practice is an esteemed leader in their profession – which Eddie is – and we are keen to work with him so we can share his wealth of professional experience and knowledge."
"His signature enthusiasm for teaching, coupled with his genuine warmth and kindness, will profoundly contribute to the learning environment of our teaching students and the culture of the Sydney School of Education."
As for Professor Woo, he's mainly just excited to work with people who might also share this enthusiasm, and passion, for teaching.
"Teaching is really, really hard work, but it is incredibly rewarding to see the impact you've had on students," he said.
"There's nothing like it. It's not for everyone – but everyone benefits from the work of educators. This makes it something really noble."
The original version of this article appeared as a media release from the University of Sydney.