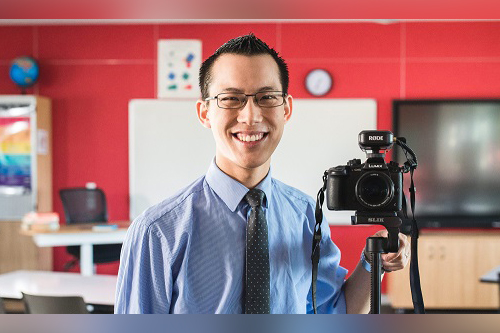 Cherrybrook Technology High School teacher Eddie Woo is sometimes called "the Maths teacher you wish you'd had", and with good reason. His teaching style is engaging, entertaining and electric.
The father of three, who is currently the University of Sydney's Education Ambassador, has earned the accolades of 'super teacher', Australia's Local Hero of the Year and was last year named one of the top 10 teachers in the world in the Global Teacher Prize.
Since 2012, his wildly popular 'WooTube' series has captured the imagination of educators around the country, and the world. The initiative began when he first started filming his classes so that a sick student could learn from home.
In 2016, Woo began receiving a flood of emails from teachers trying to emulate his online teaching success to engage their own students in case classes needed to be moved online.
Little did Woo know that four years later schools across the world would be scrambling to shift their classes online – something he'd built the architecture for nearly a decade earlier.
To address the obvious challenges the online shift poses for teachers, Woo recently launched a YouTube series called 'Teaching with YouTube', which provides educators the technical skills to prepare lessons to share on the platform.
So far, Woo has uploaded two videos on the channel – one focused on equipment and the other on shooting and editing.
He says that while the COVID-19 pandemic caught him off guard as much as everyone else, he felt ahead of the curve when it came to how educators would need to adapt.
"I feel like I've been unintentionally preparing for this pandemic for the last seven years, because all of the skills I've developed are fit for purpose," Woo told The Educator.
"I had a great relationship with YouTube already, so I reached out to them and told them that I believe this is something that people really need right now, and they provided me with help".
'Very positive feedback from educators'
Woo said that creating content via YouTube is "in the too-hard basket" for a lot of educators, so his latest initiative is aimed at making the technical know-how widely accessible and practical for teachers.
"I've also reached out to Apple, as I've been using their equipment and tools in my videos for years, and they also stepped in to support this initiative, which is great".
Woo said he has received very positive feedback since launching the series.
"I knew lots of people were interested in this but when I looked more closely at the analytics of my 'Teach with YouTube' videos on YouTube revealed that the average view time on my 9-minute videos is 7.5 minutes," he said.
"This shows that educators are finding these videos valuable".
Woo said that since launching WooTube in 2012 he has practically covered the entire secondary mathematics syllabus for NSW, which also covers most other jurisdictions.
However, the disadvantage of this, says Woo, is that there are 4,500 videos that staff and students would have a very hard time sorting through.
"It's like a needle in a haystack situation. Fortunately, Google for Education stepped in to help me to collate these videos into an LMS-type system that breaks down all of the videos by year and topic," he said.
"There is also a team of teachers who worked with me to focus on the syllabus and what videos were most appropriate, most relevant and aligned to the Australian curriculum".
Online learning mustn't lose the social element
Woo highlighted the importance of learning as a social process during the pandemic.
"We can't avoid the fact that there is a social fabric that is normal to the classroom and that makes learning effective," he said.
"Having that, for the most part, pulled out from beneath teachers is very revealing to a lot of us, because in this online environment it makes us reflect on whether we've been as effective in developing our students' understanding as we thought we were".
Woo said educators are setting themselves and their students up for failure if they think using just video content will be enough.
"Even though I'm the person who you'd expect would say 'video content is enough', it's because I know video so well that I know it's just one piece of the puzzle," he said.
"If you don't back that up with cooperation and collaboration between peers, and between student and teacher – and use technology to support that as well – students are going to lose an entire year of learning".
Woo said it's important that technology is used creatively to avoid effective teaching practices from being "short-circuited".
He pointed to an example of when he was recently teaching the Year 12 advanced cohort in his school.
"The way we've done it is that rather than every teacher teach their five classes and duplicate a lot of effort, I will teach all 85 students in the Year 12 advanced course, and my colleague who also teaches this will do the Year 8 or Year 9 course," he said.
"All of the students are there in the 'online lobby' and anyone who needs help, we can break out in Microsoft Teams to form a new subgroup where students who are focusing on a certain topic of subskill can get together in that small group like a little huddle and work on that separately, just like we would at a student's desk".
Woo said it's important that educators explore technology further because many teachers are still finding their feet as their schools transition to online learning.
'Everyone can get on board'
Woo's upcoming third video will be focused on 'creating a channel, uploading content and making it easy to navigate'.
"This video will look at how teachers can create their own channel, put content on there and make it accessible to students, but also how you can use tags, arrange things into a playlist and finesse those more practical details," he explained.
"What I'm essentially trying to mimic is when a colleague has a conversation with me and asks 'how do I do this', I sit beside them and give them the confidence and that nudge so they can get it out of the 'too hard basket' and achieve what they're trying to do without feeling overwhelmed.
Woo said the one message he wants everyone to take away from his initiative is that everyone can get on board.
"I don't want people to assume this video-making process came naturally to me and that they should be experts from the get-go. I was nervous when I started but I've become better at this over time," he said.
"This is the perfect environment to try something new, and everyone knows we're learning. The important thing is to start, because the journey of a thousand miles starts with a single step, and the first one is the hardest, so I just want to encourage everyone out there to give it a go".