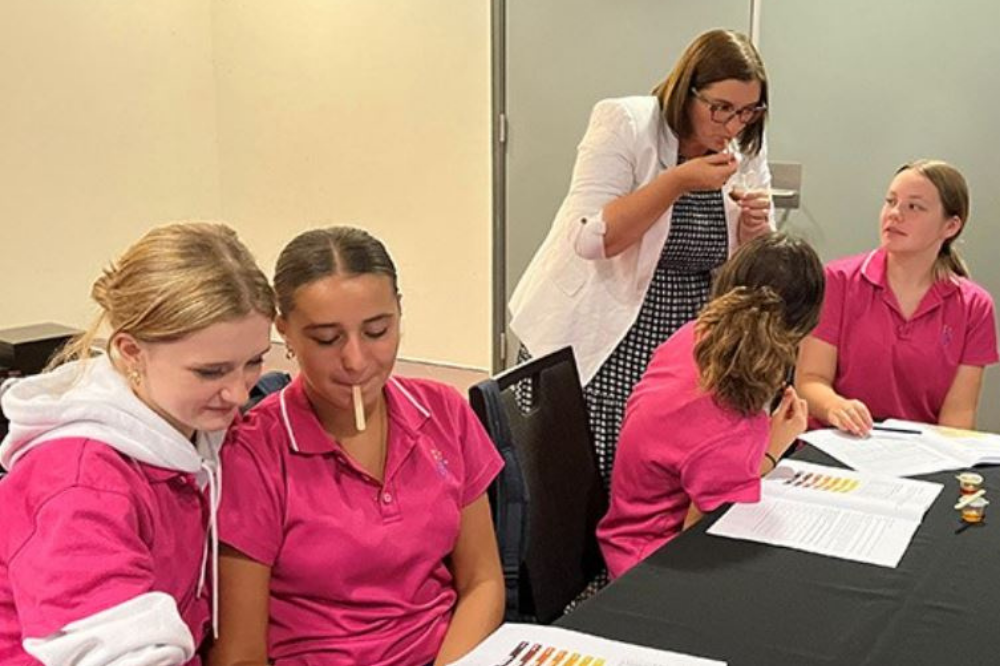 Dubbed "the largest outdoor classroom in NSW", the 2022 Sydney Royal Easter Show kicked off on Friday with more than 5,000 NSW school students in attendance.
Whether they were visiting for school excursions and workshops, competing or volunteering, education is centre stage at this year's Easter Show, which ends next week.
Food technology enthusiasts were given a treat (literally) at workshops held by the Royal Agricultural Society.
The 'Art of Chocolate' and 'Sweet Bee Honey Hotel' workshops were held by experts in the field, and gave students the opportunity to take a behind-the-scenes look at the production of honey and chocolate.
The 'Art of Chocolate' workshop focused on the history of chocolate, and gave students insight into how cocoa beans become chocolate bars. Jodie Van Der Velden, owner of Blue Mountains luxury chocolate company, Josephan's, led the workshops, sharing her knowledge and expertise, and even allowing students to sample her chocolate.
The 'Sweet Bee Honey Hotel' workshop explained honey production from start to finish, covering the life cycle of bees, the structure of a hive and how different types of honey are produced.
Students taste tested different types of honey, with workshop host Penny Dowd providing instruction on recognising different notes and flavours within different kind of honey.
Education and Early Learning Minister Sarah Mitchell attended both workshops and was extremely pleased to see students participating so eagerly.
"It was so great seeing the students so engaged in the workshops," Ms Mitchell said.
"It's an amazing opportunity for students to have exposure to agriculture and learn more about where food and fibre come from."
Royal Agricultural Society education head Duncan Kendall was thrilled with the workshops, particularly the students' response.
"The kids were all so engaged, and it was so pleasing to have new ways of teaching on display at our workshops," Mr Kendall said.
Blue-ribbon ambitions
For many students the main aim of the Easter Show is the chance to take home a coveted ribbon. NSW school students were participating in a variety of events, from animal showing, arts, crafts and produce competitions to the young judges contest.
A crowd favourite on the opening day was the Schools District Exhibit Display, a showcase of hard work and creativity of high school students from Tempe High School, Hurlstone Agricultural High School and Yanco Agricultural High School.
Taking months to plan, and days to construct, the displays were created with the best produce each area had to offer.
Each school's display was based on a different theme, with Yanco Agricultural High School using the opportunity to celebrate the school's centenary celebrations.
Hurlstone Agricultural High School's display 'From the Markets to the Mines' acknowledged the long-established link between Chinese Australians and agriculture in NSW, while Tempe High School's display, 'Turf to Surf', celebrated the produce of NSW.
Another key educational opportunity involving schools was the Little Hands on the Land exhibit which shows children how their food is produced and ends up at the supermarket.
Students from all over Sydney volunteer at the display, including a group of Alpaca lovers from Menai High School sharing their knowledge and expertise with those visiting the exhibit.
This article was originally published on the NSW Education Department website and was written by Olivia Gray.