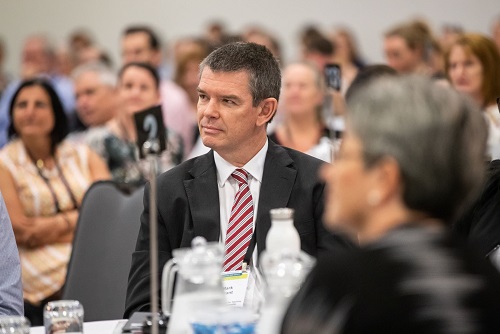 For new educators and aspiring leaders, learning about tricks of the trade and cutting-edge research from more experienced colleagues can be an inspiring experience.
In May, Australia's most effective teachers gathered in Darwin for the 2019 Highly Accomplished and Lead Teachers (HALT) Summit, which included renowned education thought leaders such as Dr Lyn Sharratt, Dan Haesler, Laureate Professor John Hattie and Renez Lammon.
The free annual event sees HALTs work with leading thinkers from Australia and internationally, develop skills that equip them to lead and inspire colleagues, and collaborate with other HALTs.
"When you're in a room of expert teachers from across Australia, it's wise to practice the old Confucius saying of 'two ears one mouth' and do listening and talking in that proportion," AITSL CEO, Mark Grant, told The Educator.
Grant said the summit was an "excellent opportunity" to engage with so many impressive teachers on how they can have the greatest impact in classrooms.
"The expertise of the HALTs really stood out, as did the considered program which allowed us to surface and share that expertise," he said.
At the event, delegates tackled three hot topics: student growth, the status of the profession and women in leadership, and worked together on future actions.
"It was a great opportunity for expert teachers to learn from each other, then take their experiences back to benefit their schools, colleagues and students," Grant said.
Another highlight, said Grant, was the opportunity for delegates to gain a greater appreciation and understanding of unique cultural and educational contexts in the Northern Territory, both at the summit and by participating in school visits in the lead-up.
National certification boosting profession's image
The number of nationally certified teachers continued to grow with nearly 600 educators across Australia now formally recognised for their leadership and expertise.
Grant said the national teacher certification program feeds into AITSL's "core business" of promoting and supporting excellence in teaching and school leadership.
"Out of everything we do in schools to improve learning outcomes for students, we know from the evidence that it is quality teaching that has the biggest impact," he said.
"This is why national certification is so important. HALTs often speak of the positive impact their certification is having on their students, but their expertise also benefits their peers."
Grant said that an AITSL Spotlight report on HALTs which the Institute launched at the summit reinforces this.
"It also identifies that having a HALT in a school contributes to a culture of learning among staff and enables quality teaching to have an impact across the school, and the wider community," he said.
The Spotlight also found certification helps teachers improve their practice and provides them with external credibility.
As outlined in the Spotlight, 86% of HALTs in the HALT Census found the certification process more valuable than other forms of professional learning they had undertaken.
"This professional recognition for expertise and skills is just so important and is another key benefit of certification," he said.
"That almost 600 teachers have achieved national HALT certification in Australia since 2012 is good news for teachers, their colleagues, students and the country. What's also good news is that there are clear opportunities to increase access to national teacher certification across the full workforce profile."
Invigorating inspiring leaders
Carly Sopronick, head of learning at the Atherton Centre for Learning and Wellbeing, was one of the HALTs at the Summit. Sopronick is an AITSL Certified Lead Teacher, a Literacy for Learning Tutor, an Anita Archer Trainer and a 2018 Showcase Teacher of the Year.
She said the National HALT Summit provided an opportunity to engage in collegial conversations with her peers and provide both affirmation of best practice, but more importantly challenge her thinking as a teacher-leader.
"I come from a small country town in Queensland and was in Cohort 1 of the whole notion of being a HAT and LT is still new and a little overwhelming," Sopronick told The Educator.
"We need to promote the professionalism of teachers in our communities, regions, states and across Australia."
Sopronick also highlighted the need for leaders to use their collective voices to raise the profile of teachers and learning.
"I left the conference invigorated and bursting with ideas for my classroom, school and region," she said.
"The summit inspires, invigorates and challenges us all to continue to grow as learners and as leaders of learning."