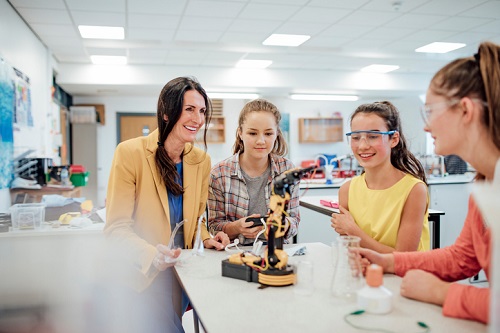 Across Australia, a strong focus on STEM education is changing the way that students learn, but engagement in this field remains low.
A 2017 Federal Government report found that STEM enrolment had hit its lowest level in 20 years, prompting calls for a rethink about how the private sector, schools and communities can reverse the slump.
Even though each science, technology, engineering and maths are individually critical, Chelsea Hayward, NSW region vice-president of Engineers Without Borders, says engineering can combine all the other STEM areas in an engaging way.
"Engineering applies principles of maths and science in a practical way, to solve real world challenges and improve social, economic and environmental outcomes," Hayward told The Educator.
"With increasing globalisation and advances in digital technologies across multiple industries, engineering will play a leading role in the jobs of the future."
Hayward said this is not only in the form of physical engineering, but also in other engineering skills such as structured critical and innovative thinking.
Students learn about engineering's positive social impact
Today, Engineers Without Borders (EWB) Australia kicked off its School Outreach workshops in Melbourne to provide students with a fun and interactive way to discover more about engineering.
EWB aims to inspire Australian school students to become the next generation of engineers by creating access to clean water, clean energy sanitation and housing.
Hayward said the workshops, which are part of the MPavilion STEM program in partnership with Office for Women, have been mapped to the National Curriculum to ensure their relevance to class work.
"Students can learn about the positive social impact engineers can have by delving into the world of 'humanitarian engineering' and finding solutions to challenges faced by people living in disadvantaged circumstances," she said.
"This element of social impact is key to attracting more diversity into the profession."
Examples of some activities include building floating houses for people living on Tonle Sap Lake in Cambodia, creating prosthetic legs from limited resources for those who may not have access to high-tech prosthetics, and coming up with methods to deliver medical supplies to remote communities in Timor Leste.
Hayward said the activities provide "an excellent opportunity for cross-disciplinary learning" with elements of maths, science, design and technologies, and geography incorporated into most workshops.
"On top of this, students also develop skills in team work, problem solving, and critical and innovative thinking," Hayward said.
"Through these workshops EWB aims to motivate and enable students to make informed decisions to pursue STEM subjects at school and ultimately inspire the next generation of STEM professionals working towards shaping a better world."
'An increasingly relevant skill'
Hayward said that as demand for artificial intelligence, smarter phones and faster internet grows, engineering skills will be pivotal in creating and iterating these new technologies.
"As a society, we are also coming to the realisation that drastic measures are required to ensure the future of our planet and it is engineers who play a key role in developing sustainable solutions and tackling climate change," she said.
"From a humanitarian perspective, it will also be critical for engineers to take up opportunities to close the gap for people living in disadvantaged circumstances, ensuring that advances in technologies are inclusive and widespread."
Hayward said the broad remit of an engineer means that engineering skills are becoming more relevant across so many industries – from finance to manufacturing, and everything in-between.
"Engineers receive formal training in problem solving, creativity, teamwork and critical and innovative thinking and all of these are skills sought-after by employers beyond the engineering sector," she said.