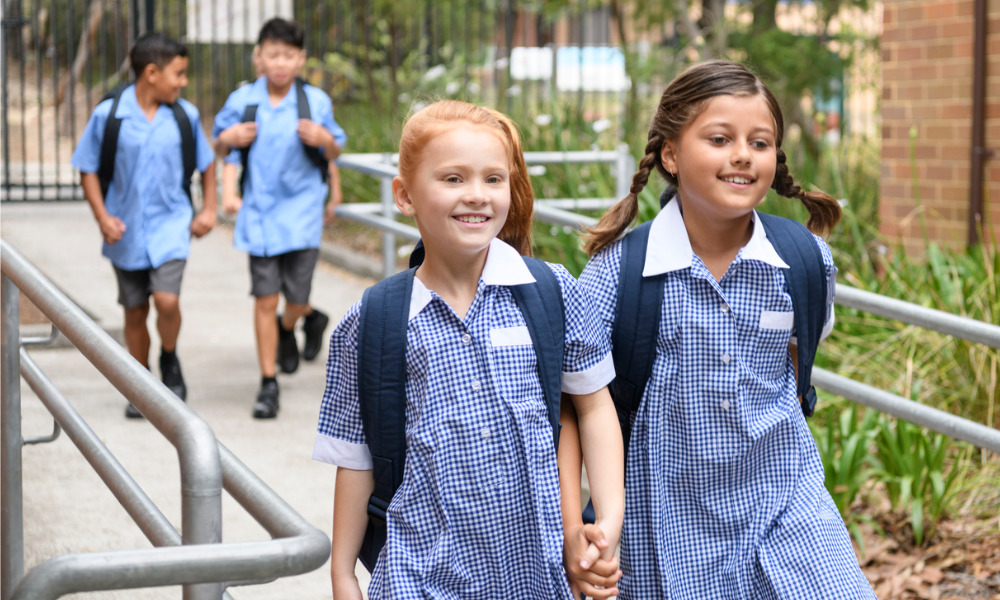 Twenty percent of Australia's high school-age students identify as having 'low' levels of mental wellbeing, with schoolwork, tests or grades the top driver of their anxiety and worries, a new nationwide survey reveals.
In the first part of a two-part survey by NAB, titled: 'Student wellbeing - how young people really feel about their lives', students in Years 7-12 across Australia's three school sectors shared in-depth insights into how they feel about their lives, and how schools' student wellbeing programs can be improved.
Private Catholic schools reported more students with low emotional or mental wellbeing (29%) – nearly twice as many as private independent schools (17%) – five times more common in girls-only schools (26%) than boys-only schools (5%). Girls also reported low physical wellbeing more frequently (19%) than boys (11%), and year 11 students reported it more often (19%) than years 7-9 (9%).
However, nearly half of students surveyed said their school wellbeing programs do not help much, with those from co-educational and girls' schools reporting the lowest scores for their schools' wellbeing programs.
By school type, students at private Independent schools said they were helped the most (51.9), while students at boys-only schools (54.0) said they were somewhat more helpful than those at coeducational (45.3) and girls-only (47.3) schools. The impact was broadly consistent across all year levels. Overall, almost 1 in 2 (45%) students said the programs did not help much compared to 6% of parents.
Schoolwork, tests and grades the biggest concerns
The top drivers of student anxiety were schoolwork, tests, or grades (66%), appearance (44%), mental health (41%), tiredness/lack of sleep (38%), and future job prospects (30%).
However, the survey found that Australian parents are significantly underestimating these stressors, with 28% believing their children's friendships were the second-biggest driver of anxiety (28%), followed by mental health (21%), and bullying (17%).
Parents also underestimated their children's concerns about future job prospects, university admissions, family conflicts, physical health, and financial pressures. Only 4% of students reported having no worries, compared to 19% of parents.
Biljana Nikolova, NAB's executive for education, said the report gives education decision makers a voice to share with parents and board that validates principals' observations of school life with data and insights.
"It highlights, for example, the lasting legacy of the pandemic on the 'COVID generation' and underscores the pressure that many students place on themselves in relation to academic achievement," Nikolova told The Educator.
"The notion of 'success' for many young people has become more closely linked to tests than a broader assessment of their achievements in life. Schools alone aren't responsible for this – it is something for society as a whole to consider."
A wake-up call for schools
Nikolova said above all, the research serves as a reminder of the complexity facing schools when dealing with wellbeing.
"Just as there is no 'average' student, there is no one size fits all approach to wellbeing. Indeed, many schools talk of having a 'wellbeing culture' which extends beyond formal programs," Nikolova said.
"School wellbeing programs are doing a remarkable job in the face of very complex problems – such as heightened anxiousness due to COVID – but remain only one part of the solution. Wellbeing will always be the joint responsibility of governments, educators, students, wider communities, extended families and parents."
When asked what else should be done at a societal level to address the concerns around student wellbeing that were laid out in the report, Nikolova highlighted the need to listen more to students and particularly to schools.
"Research shows people tend to be happier and less anxious the older they get, so many students surveyed may not feel the same way about life as an adult. However, at this point in time many students are feeling anxious," she said.
"The more we can engage with schools on what they are seeing in regard to the concerns of children – and more importantly their experiences in what is working to alleviate those concerns – the better we will be as a society."