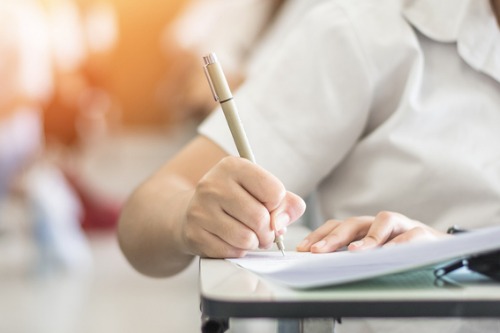 Australia's 15-year-olds have fallen to meet the OECD average in mathematics skills – for the first time in the assessment's history.
The PISA 2018 report, released found that 54% of students attained the National Proficient Standard in mathematical literacy, compared to between 58% and 91% of students in countries that performed higher than Australia, and equal to the OECD average.
The Australian Mathematical Sciences Institute (AMSI) says urgent action is needed to strengthen the teacher workforce and reverse Australia's falling mathematical performance.
'A wake-up call for all Australians'
While unfortunately not surprised by the report, AMSI Schools Program Manager, Janine Sprakel said Australia needed to get real on the issues impacting mathematics performance to ensure it remained economically and socially competitive on the world stage.
"This data should be a wake-up call for all Australians," Sprakel said.
"It is critical we act now to reverse this trend starting with measures to address out-of-field mathematics teaching and strengthen the primary and secondary teacher workforce".
Sprakel said it was worrying that students were entering senior high school unlikely to pursue high level calculus-based maths subjects into Year 12.
"Only 29.6% of Year 12 students participated in high-level mathematics in 2018, a trend that looks certain to continue," she said.
Sprakel said this represents "a significant loss for the Australian economy" in terms of capability and skills needed in the future.
The report found that the gap between high and low maths performers also continues to increase, with persistent inequality putting regional and remote students at risk of falling even further behind.
"It is deeply concerning to see that 45% of students in remote schools perform poorly in mathematical literacy," Sprakel said.
"This locks them out of opportunities and has the potential to put the brakes on their futures leading to disadvantage that will likely follow them into adulthood".
However, with countries like Sweden and the UK showing improvements since 2015, the good news is there is growing evidence that interventions can work.
"As we look to reverse trends here in Australia, it would be worth understanding what is working so well for these countries. To see how we can learn from their success," Sprakel said.
'Give teachers a greater voice'
In Australia, 58% of students attained the National Proficient Standard in scientific literacy, compared to between 60% and 90% of students in countries that performed higher than Australia, and 52 per cent across the OECD on average.
Nine per cent of Australian students were considered high performers in scientific literacy (achieving Levels 5 or above) compared to 12% in Singapore and 32% in the top performing country, B-S-J-Z (China).
The difference between Australia's highest and lowest performing students was 330 points, compared to the OECD average of 307 points.
The Australian Science Teachers Association (ASTA) said a solution to arresting or reversing this decline must be inclusive of teachers as key change agents, whilst being holistic and multi-faceted to reflect the complexities and inequities of contemporary education.
"As an organisation, we stand with our teachers. Our member associations in each state and territory actively champion our profession and the people who work within it," Incoming ASTA President, Nathan Curnow said.
"They provide a range of rich and targeted opportunities to empower teachers and build their capacity through professional learning in response to changing circumstances".
He said ASTA is calling on the government "to ensure teachers of science have a voice in the continued national discourse that will be required to address and reverse these trends long term".